UPDATE 2020:  Adding the new version by Kimi Miner and Paula Fuga:
From Youtube:
"Christmas Lū'au has been my favorite song for the holidays ever since I was a little girl! This updated version gives the listener a unique description of how we celebrate Christmas, Hawaiian Style!  It was really fun to record and our new verse will give this familiar tune a new life making it even more special today and for generations to come!" said singer/songwriter, Paula Fuga
"Our new version of this Hawaiian Christmas classic is so much fun and invokes the nostalgia of holiday pāʻinaʻs (parties) in Hawaiʻi. Though many of us wonʻt be able to celebrate Christmas traditionally with the big backyard lūʻau we can sing about it with our ʻohana. My keiki already ask for this song on repeat!" said Kimie Miner 
Below is the original video shared here prior to update:
CHRISTMAS LŪ'AU
© Lyrics & Music: Leonard Hawk
'Twas the night before Christmas
And all through the hale,
Was singing and dancing
And ho'omalimali.
Mama in her mu'umu'u
And papa in his malo
Greeting aikāne,
"Pehea, mahalo."
Sister gathered flowers for a lei.
Brother watched the imu all of the day.
Soon the music boys began to play
Mele old and new of Hawai'i nei.
Tables were loaded with plenty of kaukau –
'Opihi and salmon and steaming hot laulau.
We ate and talked story until we were pau.
It was really maika`i at our Christmas lū'au.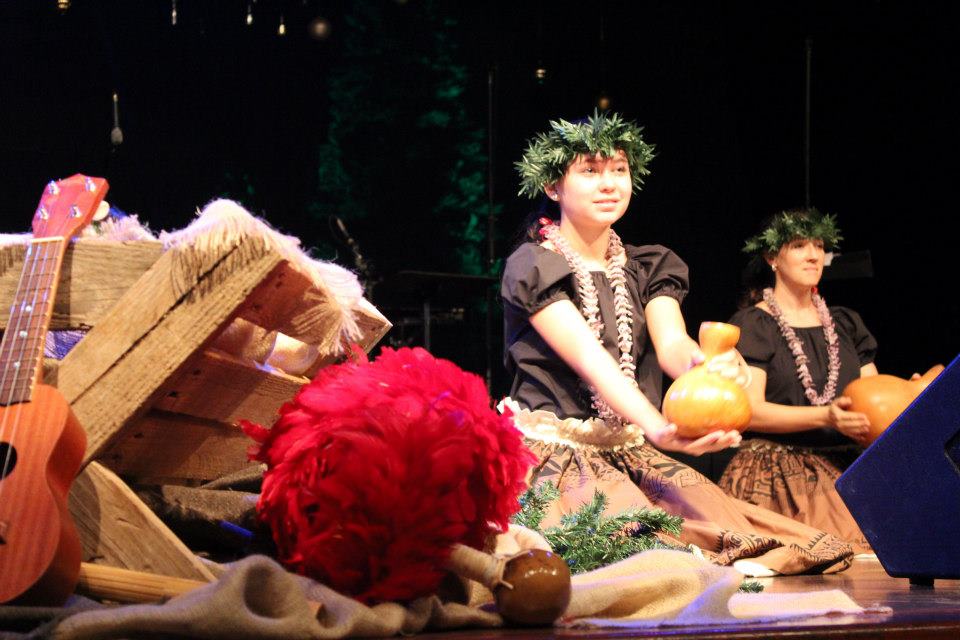 Photo Credit: Hope Chapel Maui. Incidentally, Hope Chapel is having Christmas Eve Services with Worship Hula.  Go to Hope Chapel Maui website  or click here for more information.