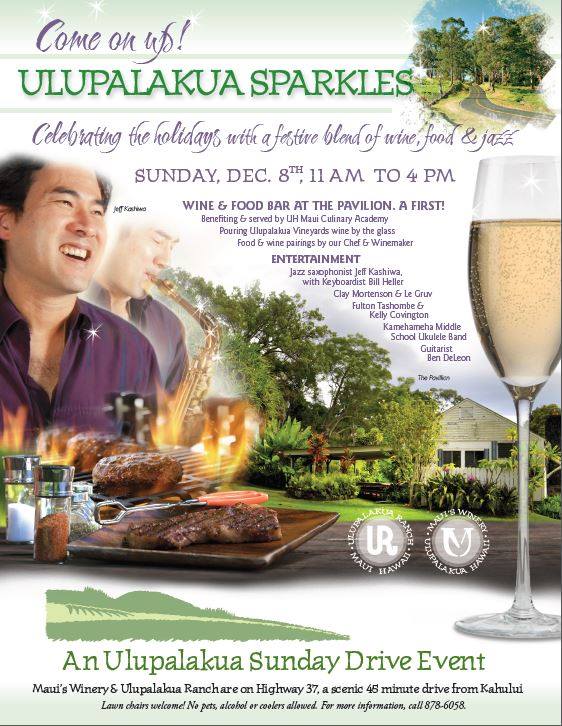 It has now become a A Maui Blog "tradition". Every year, around this time I share with you about "Ulupalakua Sparkles".  It's a wonderful gathering on Maui with music, food and fun,  held upcountry. If you have not been to one of these Ulupalakua Sparkles, I suggest you come this year. At the end of this post I included two videos taken during the gatherings that will give you an idea of how special the celebrations are. Here are the details for this year's event:
Maui's Winery and Ulupalakua Ranch Store & Grill invite the public to come on up to Upcountry Maui for a brand new "Ulupalakua Sparkles" experience on Sunday, December 8, from 11 a.m. to 4:00 p.m.
It will be an unforgettable day of wine, food and jazz—as for the first time ever, an intimate wine garden blossoms on the picturesque grounds of Maui's Winery.
Here in the Wine & Food Bar at the Pavilion, the winery will pour five of its regional wines by the glass, each paired with an exquisite menu selection by Executive Chef Will Munder of Ulupalakua Ranch Store. Dressed in their best chef whites, culinary students from the University of Hawai'i Maui Culinary Academy will serve the menu. Proceeds from the event go to support future programs for these budding island chefs.
To showcase the Ulupalakua sensory experience, Chef Will has created a savory menu of ranch-raised beef and fresh line-caught fish with housemade sauces, and he and Winemaker Mauricio Soler have paired each offering with wine from Ulupalakua Vineyards. At the top of the list is Chef's choice: the kiawe-grilled Maui Cattle Company Beef Tenderloin with Upcountry Peppercorn Chimichuri, served with the 2011 Maui County Syrah.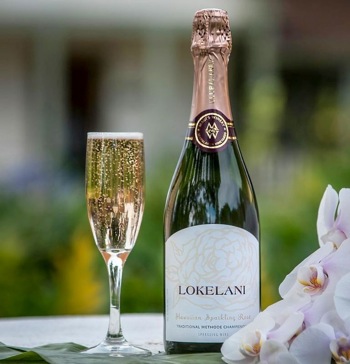 Many of Chef Will's menu selections will pair perfectly with a wine made for celebrating: the new Lokelani Sparkling Rosé. A crisp, fruity, expressive wine created in the traditional methode champenoise, Lokelani is a vibrant wine that exemplifies Maui.
Grown from the very soil of Ulupalakua is the event's other star: the 2011 Plantation Red Estate Syrah. Previously only available in the winery's Tasting Room, the Plantation Red will now be poured by the glass for the first time. This wine represents one of the most distinct vineyards in the world, on the southern slopes of Haleakala—a true sense of place worth sharing.
Flutes filled with bubbly, palates appeased, guests can relax and enjoy the ambiance… the canopy of 150-year-old trees, the low crumbling stone walls that once lined the front yard of the historic McKee Estate, the fresh Upcountry air—and the sweet sounds of some of the nation's finest jazz musicians in concert just a few yards away.
Well-known smooth jazz saxophonist Jeff Kashiwa returns to Ulupalakua to headline the event from 2:45 to 4 p.m. During his decade-long tenure with popular jazz fusion group The Rippingtons, Kashiwa established himself as one of the most diverse saxmen in contemporary jazz. Now a solo artist with nine albums (including his latest, "Let It Ride"), he's also the founder of The Sax Pack. Keyboardist Bill Heller, another talented member of The Rippingtons and Sax Pack, will join Kashiwa onstage.
Sunday Drive favorites Local jazz band Le Gruv, performing with versatile Maui musician Clay Mortenson from 1:30 to 2:30 p.m. Adding extra sparkle to the afternoon, the Kamehameha Middle School Ukulele Band, directed by Rama Camarillo, will charm visitors with holiday favorites starting at 11 a.m and Seabury Hall Emsemble, directed by Jon Toda is up at 12 noon.
Just across the road at the Ranch Store, solo guitar vocalist Ben DeLeon will play a diverse array of music from 11 a.m. to 2:30 p.m. That's also when the grill will be fired up (11 a.m. to 4 p.m.), offering a popular selection of juicy burgers like ranch-raised elk and lamb, Maui beef, and taro. Lunch specials include Kalbi Rib & Banchan Bowl, House Kalua Pig Tacos, and Baby Spinach Salad with Kula strawberries and Maui onions. An enticing selection of picnic fare is also available.
And then of course, there's the holiday shopping. "Ulupalakua Sparkles" provides a festive way to enjoy the season and browse the biggest sale of the year on wine and island-style gifts in the Tasting Room and Ranch Store.
This will truly be a Sunday Drive event like no other, according to Joseph Hegele, Director of Marketing for Maui's Winery.
"We're celebrating the wine and food from our own backyard," Hegele says. "With pairings created by our own Chef and Winemaker, we have a uniquely Ulupalakua experience—dropped right into the middle of a world-class jazz concert! It's an incredible day that we're excited to share with Maui."
About Sunday Drive events at Ulupalakua
Ulupalakua hosts twice-yearly Sunday Drive events to share and honor different aspects of this unique historic area. Each event features live music on the beautiful grounds of Maui's Winery, lunch specials at Ulupalakua Ranch Store, complimentary wine tasting, and opportunities to learn more about the area's history and culture.
Watch this video of last year's Ulupalakua Sparkle celebration:

Ulupalakua Sparkles from Beth Anderson on Vimeo.
The following video is from Ulupalakua Inspires and here you will see more of what happens on Ulupalakua events:
50th Anniversary – Ulupalakua Inspires from Beth Anderson on Vimeo.
For more information about Sunday Drive events, call toll-free (877) 878-6058. To learn more about Ulupalakua, please visit www.mauiwine.com or www.ulupalakuaranch.com.
PLEASE KOKUA and support Ulupalakua! Help us keep these events free and open to the public by patronizing the Tasting Room and Ranch Store and by respecting our rules: NO DOGS (for the safety and comfort of all), NO COOLERS (purchase your delicious meal and drinks here in Ulupalakua!) & NO OUTSIDE ALCOHOL (county liquor laws are very strict). Mahalo!
—