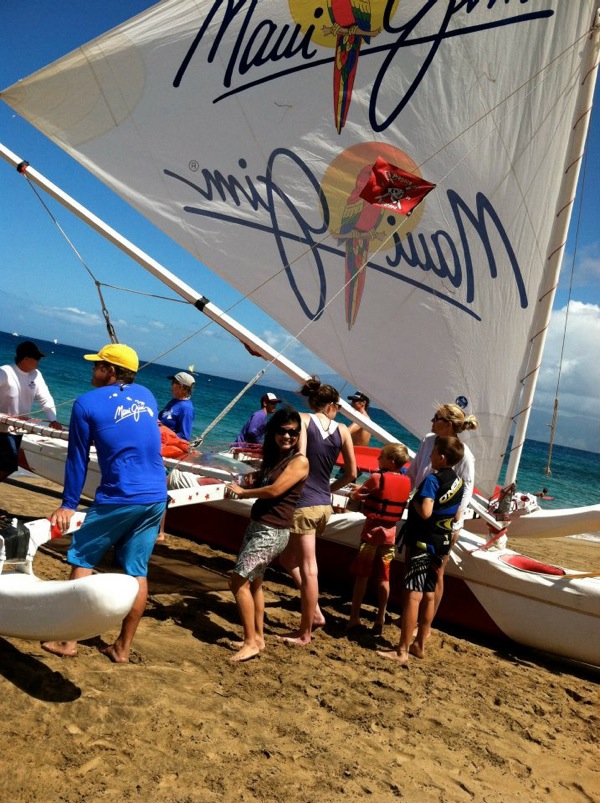 Have you attended a Waa Kiakahi event before? If not, we were in the same boat until this weekend  …
This weekend I attended the Waa Kiakahi 2012 event and I am glad I did!  If you haven't been to one, you should go next year. It's a cultural experience – something the locals need to attend to and not just the tourists.   This year is Kaanapali Beach Resort Association's 8th year of celebrating the Waa Kiakahi Canoe Festival and part sponsoring its race.   Each year it gets more fun so come on out next year!  See me in the photo as I help push the canoe on the sand – all smiles ya?

I got to sail on the canoe with @Yvonnebiegel and her boys. She even taught me a quick lesson on how to paddle. I also met the travel writer Abbie Mood and sailed with her also.

Wa'a kiakahi is a Hawaiian word which means single-mast canoe. Waa Kiakahi Festival is a 3 day event and on the 2nd day, Saturday, was the complimentary canoe ride for the public. The colorful sails, the blue ocean, the friendly crew (these are the mighty sailors) all contributed into making it a wonderful experience. Check out this video made by @erikblair
After the fun ride, we talked story with some of the ladies at the Hawaiian Sailing Canoe Association. We learned a lot from these ladies, Terry, Leimomi and Kiri, as they shared about their history, mission and their adventures.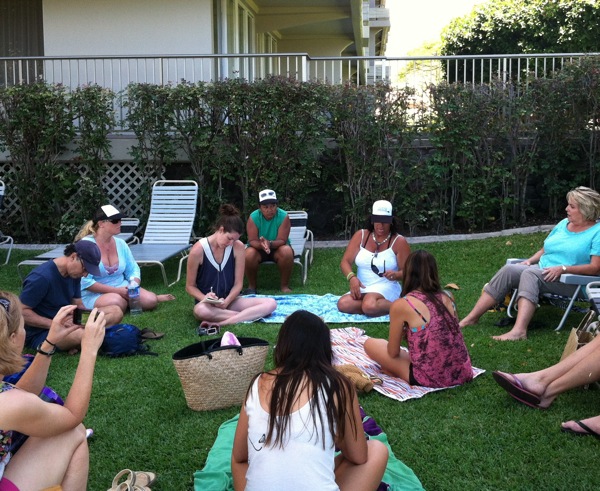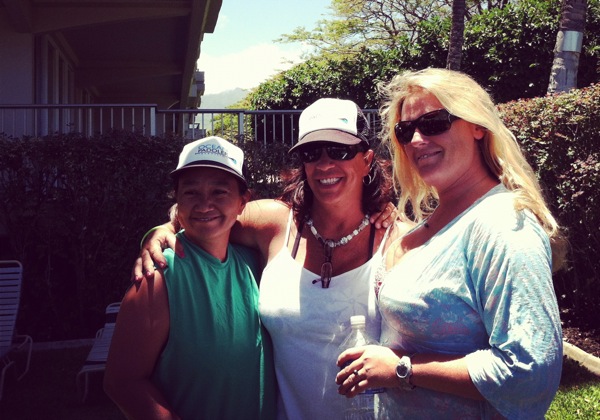 The mission of the HSCA is "to learn, revive, educate and practice those ancient Hawaiian skills and values as they relate to sailing canoes and the Hawaiian culture."  It's really about serving the community and keeping the culture and tradition alive. It's inspiring to hear about their adventures in the sea as well as their community services. They said it is also about empowering our young ones, teaching them responsibilities, in addition to bringing public awareness of the depth of the island culture.
After the talk story, we went to eat lunch at Maui Fish and Pasta.  Well, the yummy lunch deserve another post. A hui hou!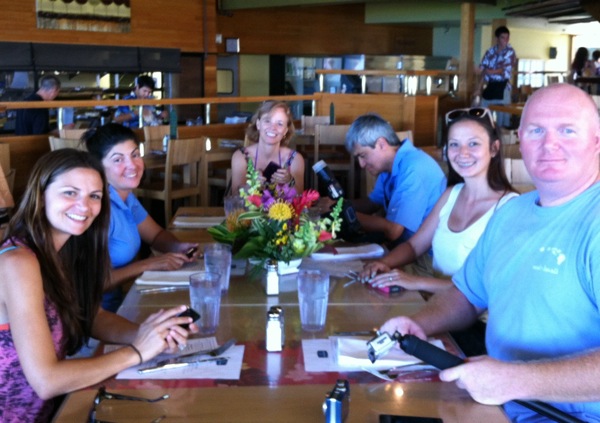 From the right and around: @TheOhanaMama @JillzBeanz @AlohaKathy @Peterliu47 @LifeInParadise @ErikBlair at Maui Fish & Pasta (@Jenrusso was there too but not in the photos because she's with me on the other table along with @MauiShelley and @AbbyMood)
* More photos at  A Maui Blog Facebook Page and thanks Peter Liu Photography for the great shots all uploaded at Flickr.