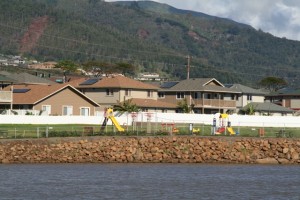 It seems just yesterday when Jesse Spencer announced that he is buying a parcel of an agricultural land in Waikapu to fulfill the need for affordable homes on Maui. I still remember that day, when without notifying us (the office staff), Jesse informed Maui News of his vision, and they published it headline! That day, our phones rang off the hook! Jenny and I didn't get anything done except answer phones calls from interested homebuyers asking to be on the list. We ended up hiring temporary staff just to answer the phones and update the list. That was a very hectic week, and I always smile when I look back on that day and remember how crazy that was.
Today, as I look out at the window of our trailer office here in Waikapu, I see a beautiful neighborhood. The Waikapu project is complete. It is such a great feeling to know that I was a part of making the dreams come true for the hundreds of families who now live here and have a home they can call their own.
Getting the approval for this subdivision wasn't easy. The so called "fast track" took 3 years to process. Many concerned citizens were wary of the project citing "urban sprawl" dilemma. But in the end, the County Of Maui Council unanimously voted "yes" for the project. I even remember Mayor Tavares (who was a council woman at that time) saying something like "sometimes, the greater and more basic need of affordable housing must come before the good concern to prevent urban sprawl." I am not quoting her exact words but I am sure that's in the transcript of that particular hearing.
One has to walk in and around Waikapu Gardens subdivision to appreciate the beauty of this neighborhood. Yards well kept signifying the homeowner's pride of their homes, kids biking around or playing in the playground, mothers walking together while pushing their baby's strollers, seniors chatting on their lanais, and so on. These are the "good old neighborhood" scenarios that are present here at Waikapu Gardens today.
Next week is my last week working for Spencer Homes. After 11 good years of working for them, I am being laid off because there is no more work to do. We are looking at Maalaea Village project, but who knows how long that so called "fast track" would be this time. I guess for now I am joining the hundreds of unemployed who once were hardworking employees but now has to get unemployment benefits because even though they want to work, work is not available. The good side is that I will be spending more time with my kids and family 🙂
Going back to Waikapu Gardens … it is a blessing to know it's been completed. And it was a job well done.
Aloha,
Liza