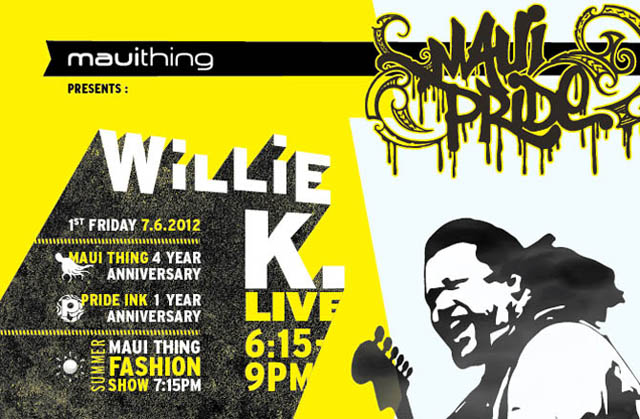 Maui Things is celebrating its 4th year anniversary and Pride Ink its first.  The two local businesses decided to do a combined celebration this July 6, 2012  Wailuku First Friday. Creatively, they coined a name for the celebration and came up with a brillant name: "MauiPride".
Wailuku First Friday has a soft spot in my "social media heart".  Back in the day when it was starting and it's just a small town event, I adopted the event by promoting it here on A Maui Blog every month.   As we know, Wailuku First Friday's concept was adopted by other towns and now there are Friday Town Parties very Friday of the month on Maui.  Because I got busy with so many other commitments, I stopped promoting Wailuku First Fridays regularly – but this month is special so here  I go again 🙂
This month, the one and only Willie Kahailaii, also known as Willie K,  will perform and rock Wailuku town on Friday to celebrate MauiPride. Willie K. has been entertaining with his music since the age of 10. He has evolved into an eclectic and charismatic singer/songwriter/entertainer. He has earned multiple Na Hoku Hanohano awards. Everyone on Hawaii knows Willy K., and maybe even beyond Hawaii.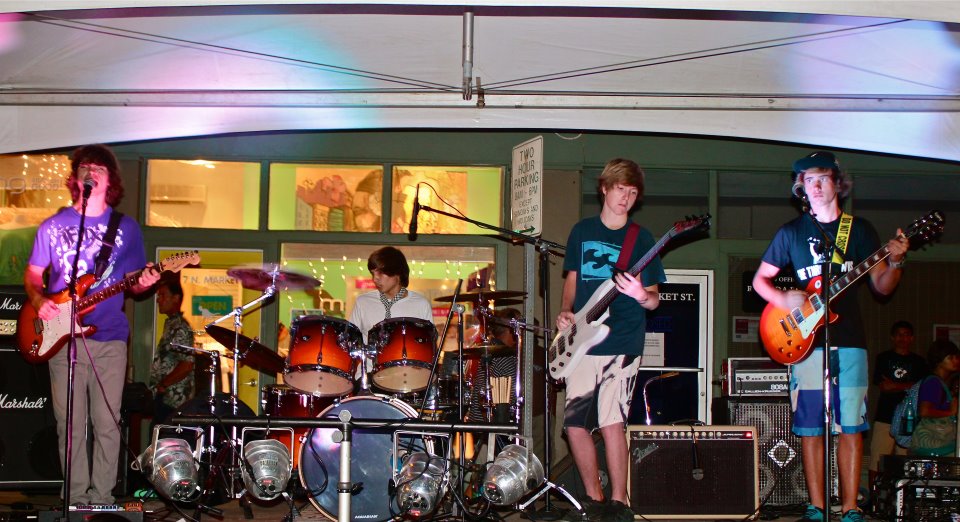 Aside from Willie K, there are many other entertainers spread throughout the heart of Wailuku.  One of my favorites is the Visibly Shaken which will perform at Giannotto's Pizza on Main Street. Those good looking young guys rock!  I am also looking forward to listening to Brett Moore.  He is my son's base teacher and he is performing there as well.
Market Street closes at 5:30 p.m. A fashion show by Maui Thing and Pride Ink will start at 6:30PM. For the safety of all participants, everyone's kokua is appreciated. Signage will remind the public that no cars will be allowed on Market Street during the event: Cars left parked on the street during the event will be ticketed. Maui Medical Group offers free parking during Wailuku First Friday at the facility's lot, located near the Main/High Street intersection. The Vineyard Street parking exit will close at 9 p.m.; patrons can exit the lot onto Main Street after 9 p.m.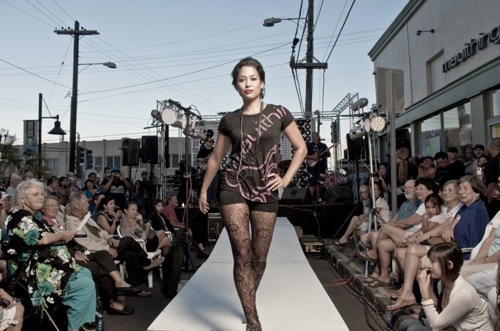 The Wailuku First Friday event showcases dozens of artisans, handmade crafters and food vendors. One vender I look forward to visiting is our friend Luana and her Maui Clothing Company. Gotta check out her "Mauilicious" shirts – they are cool! She also sells a lot of cute baby and toddler clothes so make sure you look for her stall at Wailuku First Friday.
Wailuku First Friday is a free community street party, held from 6:00 p.m. to 9:00 p.m., with Market Street closed to vehicular traffic from 5:30 p.m. I think I'd go there early to find good parking. I'd be eating at Cafe O'lei instead of eating at home .