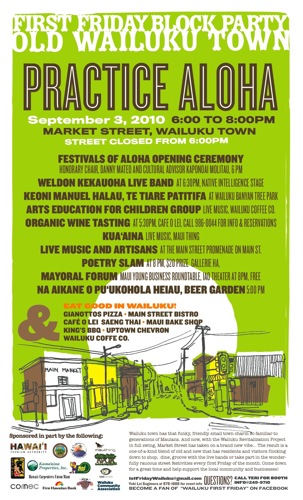 It's that time of the month once again!  September 3 is the first Friday of the months, and you know what that means: It's the street party kine fun on Market Street, Wailuku!
This Friday, the theme is "Festivals of Aloha". Maui Nui Style is launching the Countywide 2010 season at Wailuku First Friday on September 3.  A special opening ceremony will take place at 6 pm performed by Kumu Hula and Cultural Advisor Kaponoai Molitau, Native Intelligence storeowner, along with Council Chair Danny Mateo who is the Honorary Chair for the 2010 Festivals of Aloha.  This ceremony will officially open this year Countywide events which will take place from September through October on Molokai, Maui, Lanai and also the town of Hana on Maui.  The ceremony will be followed by four times Na Hoku Hanohano award winner Weldon Kekauoha who will perform from 6:30 to 8:00 pm at the main stage.  This free event is part of the Wailuku First Friday monthly celebration.
Wailuku's street part continues to expand with music at the Main Street Promenade building courtesy of building owners Robert and Lisa Joslin.        Basic Bounce a live jazz ensemble appears along with more artisans.  Everyone is welcome and the event begins at 6:00 pm and ends at 8:00 pm along with the happenings on Market Street.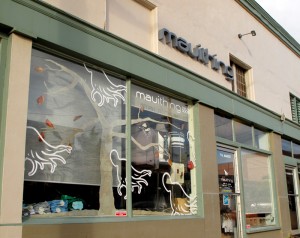 Café O Lei great service will dazzle you along with their cuisine. and stop by the Wailuku Banyan Tree park for Keoni Manuel, Te Tiare Patitifa Polynesian performance, the keiki are great!   And the Wailuku Coffee Store has kids from the Arts Education for Children Group. Check out the Maui Thing stage with live music by Kua`aina.  When the music slows down at 8:00 pm the Maui Young Business Roundtable holds a Mayoral Forum at the Iao Theater, which is free and open to the public.  Also at 8 pm is Gallerie Ha 's monthly poetry slam with a $20 prize for the best.
The Wailuku First Friday event is looking for artisans, handmade crafters and food vendors.  A fee of $40 for food vendors with Health Permit, $25 table space for non-food vendors and $20 for non-profits will be assessed each accepted vendor.  Contact Teri Edmonds at 249-9710 at If the Shoe Fits on Market Street.