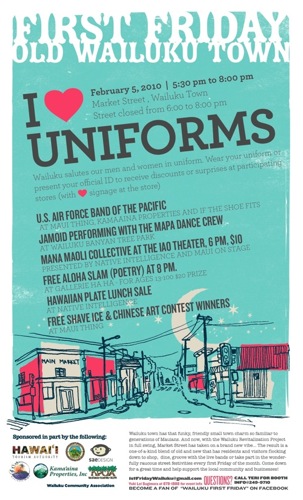 Wailuku First Friday kicks off the 2010 new decade with music, food, fun and dancing in the streets.  Friday February 5, 2010 from 6:00 pm to 8:00 pm Market Street, from Main to Vineyard will be closed for the monthly First Friday festivities in Wailuku Town.  There is no admission and the community is welcomed to a street party!
Participating merchants will show their support to men and women in uniform with hearts in their retail windows.  Show your uniform or identification to receive special discounts or surprises!
At the corner of Main and Market, the event presents the Air Force Band of the Pacific – Hawaii is the popular music ensemble, "Hana Hou". They will perform for two 45 minute performances at 6:00 and 7:00 pm.   This talented group performs classic rock n' roll, Grammy Award-winning country songs, and sounds of today's Top 40, as well as island favorites.
At the Wailuku Banyan Tree Park more music from James Woodbury's group JAMOID and dance performance from the Maui Academy of Performing Arts.   Kaponoai and Native Intelligence store along with Maui On Stage presents at 6 pm Mana Maoli Collective at the Iao Theater, tickets are $10.
Gallerie Ha Ha holds its monthly Aloha Poetry Slam for ages 13 to 100 at 8 pm for $20 prizes.   Native Intelligence sells Hawaiian Plate lunches and street vendors sparkle the street with handmade crafts, jewelry ono (delicious) food and treats!
Sponsors of this monthly event are the Hawaii Tourism Authority; County of Maui; Tri-Isle RC&D, Wailuku Community Association, Sae Design, Kamaaina Properties and KPOA 93.5 FM, Pacific Radio Group.
Questions:  1stFridayWailuku@gmail.com Teri @ 249-9710 for booths Yuki Lei Sugimura at 878-1888 for event information.  Wailuku First Friday has a Facebook visit our site for vendor forms, site map and event photos.