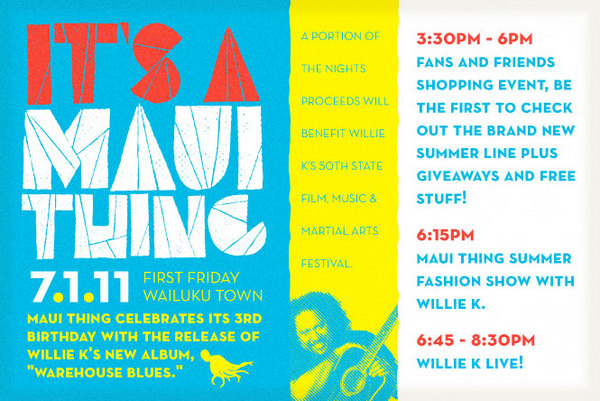 Today, July 1st, 2011 – is Friday. Do you know what that means? It's Wailuku First Friday Day today!  It's a special WFF as Maui Thing celebrates its 3rd anniversary.  As we all know, Maui Thing is instrumental in the success of Wailuku First Friday, as they always bring in best entertainer on WFF.  This month, its none other than Uncle Will K.!  Talk about great music, jammin' and fun! Don't miss Willie K's live performance at Maui Thing, along with a great fashion show.  Sounds like fun!
Wailuku First Friday starts at 6:00 p.m. and goes up to 8:30 p.m. Market Street closes from 5 p.m. with plenty of fun available on Vineyard and Main Streets as well. Wailuku First Friday organizers  thanks Maui Medical Group for opening its parking area to event-goers. Enter from Main Street and parking is free. With Wailuku First Friday growing, these additional parking are so helpful!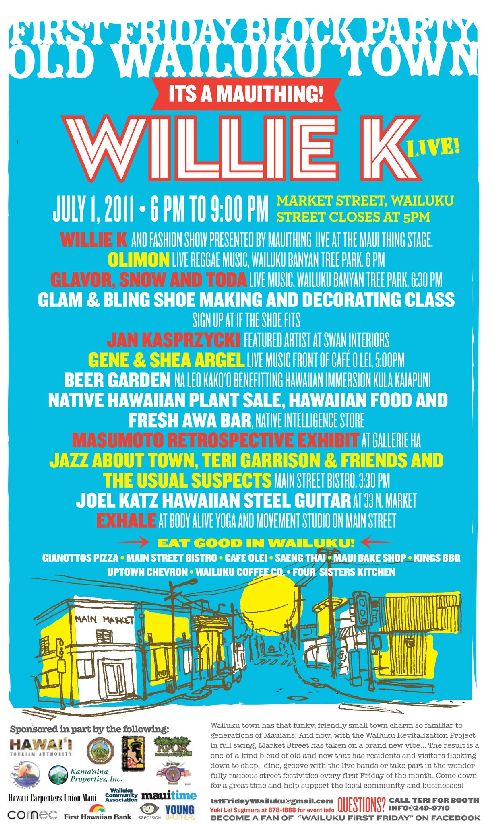 Other entertainers and guests are  Olimon, live reggae music, at 6 p.m. Then at 6:30 p.m., Seabury Hall's Ryan Glavor, Conner Snow and Jon Toda will perform at Wailuku Banyan Tree Park. Joel Katz will provide Hawaiian steel guitar music at the Maui Time stage on Market Street. Gene and Shea Argel will serve up live music at Café O Lei.
Teri Garrison and Friends and The Usual Suspects perform at 3:30 p.m. at the Main Street Bistro. Beer garden will be open as usual. Proceeds benefit Na Leo Kako'o, Hawaiian Immersion Kula Kaiapuni.
Sign up for summer "Glam and Bling" shoe decorating classes at If the Shoe Fits, and don't forget to check out the Masumoto Retrospective Exhibit at Gallerie Ha.
All are welcome to a night under the Maui moon for a night of music and friends. This free event is open to the community. See you there!