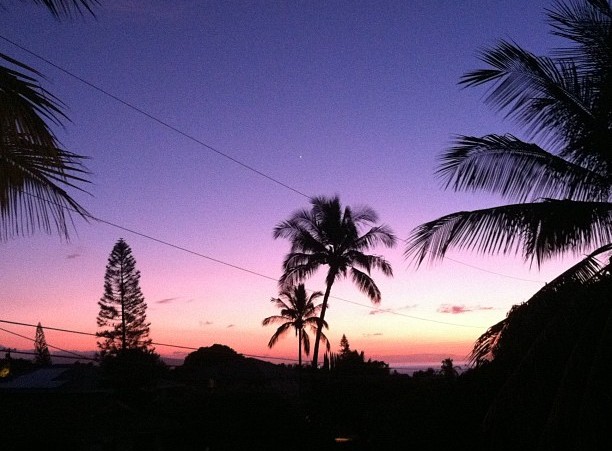 This photo above was taken from our kitchen window. I used my IPhone. Although I used the Instagram Apps, I didn't really use any filter on it.  This is how our Thanksgiving Day here on Maui came to an end (or almost the end).  How can I not be thankful?  Living here on paradise is a dream to so many, and yet here I am living the dream.  Life is good.  We had a bountiful meal. We celebrated this day with our best friends here on Maui – actually our family here.  They are the ones we camped with at Kipahulu and in  Haleakala Crater, they are our ohana so to speak.
I don't know about you, but as for me, I am stuffed!  I ate so much! There are still plenty of food left over so I know I am going to be eating some more. Yikes! Running  is on my list of things to do tomorrow!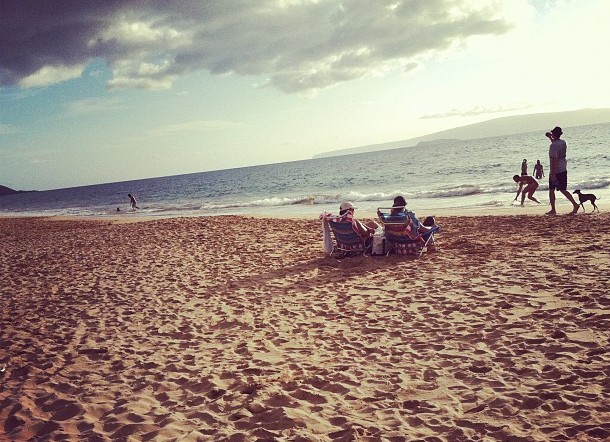 When our friends went home, my husband and I decided to go to Keawakapu Beach to walk Sonny, our famous Italian Greyhound.  It was a gorgeous day at the beach.  I am happy for all the visitors  who are here for Thanksgiving.  They not only got the epic weather the whole day, they were also shown a beautiful Maui sunset at the end of the day.
As I was walking along the beach stuffed, I can't help but think of the many things I am thankful for.  Way too many to mention here on this post.  But one thing is for sure … Thanksgiving is really not about the turkey … it's about appreciating life and being grateful for our loved ones – our family and friends.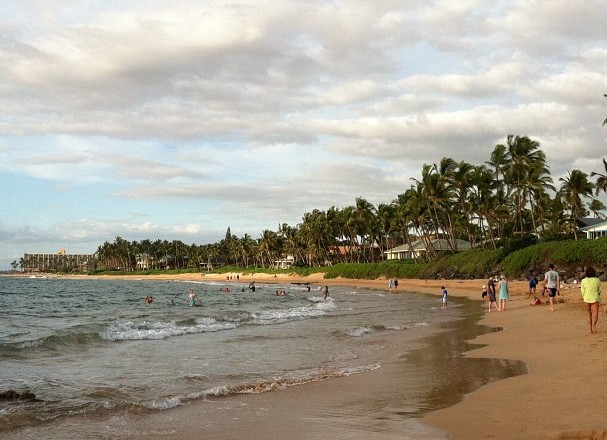 With that thought, I just want to mention here how grateful I am to all of you who regularly come here and read my blog.  It's a joy for me to write here, but even more so, its a joy for me to hear that you enjoy reading this blog.  Before the mood of this blog shifts to Christmas (oh I love Christmas), I just wanted to make sure that I express my thankfulness to you all.  Aloha!
 * * * * * *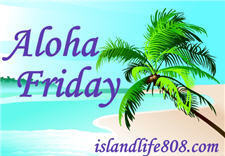 Speaking of aloha,  I am making this post my official entry to the "Aloha Friday" post at An Island Life, by Kailani.   There are three questions I have for this week – you can answer one, or you can answer 2 or all: 1) What you are thankful for today? I know you have many, but share at least one  2) What was your favorite food in your Thanksgiving Feast today? 3) Are going shopping on Black Friday? (today?)