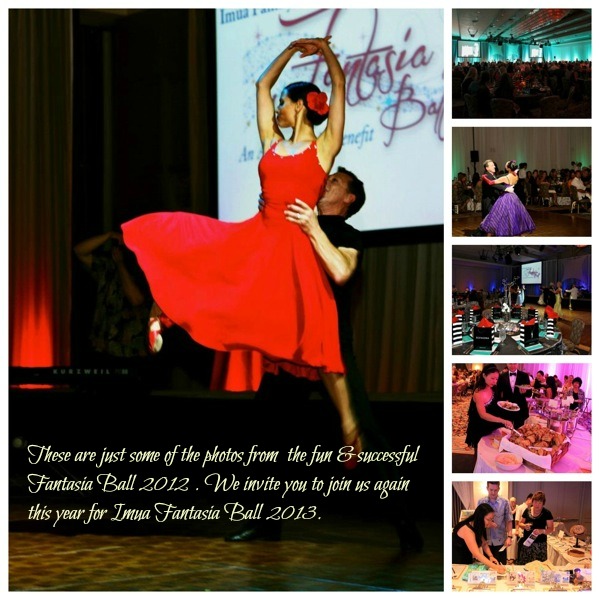 On April 13, 2013,  the most elegant and fabulous event on Maui will happen at the Grand Wailea.  It's called "Fantasia Ball 2013".
Have you heard about this Imua Fantasia Ball 2013 yet?   Some of you may not have heard about it yet. Read on and you will learn what an awesome event it is going to be.  Some of you might already have bought the tickets. Yay! I look forward to seeing you there! Some of you might have heard about it but have not purchase a ticket yet. Well. Don't delay my friend.  It's less that 3 weeks away, and the tickets are selling fast. Don't miss out! (Purchase Imua Fantasia Ball 2013 tickets here)
Imua Fantasia Ball 2013  is an extravaganza of sight, light and sound. It promises to be a night of elegance, fashion, dining, dancing and the most astounding entertainment in one place in one night!  The Grand Wailea is the perfect host venue for this fundraiser because it offers the combined spaces for the Cocktail Reception, the grand Fantasia Ball, and this year's after party – Fantasia After Dark!
Why should you attend Fantasia Ball? Here are some of the reasons why:
1. To support a great cause: Imua Family Services.  Fantasia Ball was organized to raise funds fro Imua Family Services.  What is Imua Family Services? Imua Family Services is a non-profit organization on Maui that provides comprehensive early childhood development services to children and their families with the support and resources needed to achieve their full potential in life. They had been serving the community of Maui since 1947.  Imua Family Services has been making a difference in the lives of many Maui residents. Let's help made it possible for them to continue doing so. Why not enjoy a great evening to support a great cause.
2.     To enjoy an elegant date night with your sweetheart. Fantasia Ball promises to be the most elegant affair on Maui, but don't be intimated by the word "elegant".  It is actually a great opportunity to dress up, break out the bling bling and be beautiful while you go on a date.  How many opportunities do we have here on Maui to do this? Not many, so make sure you don't miss this event!
3.     Don't have a date or don't want to go on a date? How about going out with your friends and have a blast?!  You see, I think this is an excellent "Girls Just Want To Have Fun"  GNO event to go to.  There is a spectacular fashion show that you will enjoy. There will be a silent auction with great deals from Shepora, Cos Bar, etc.  There will be shopping in addition to superb dining, fun dancing and more.
4.     Cocktails and  Superb Dinner.   The evening will begin with cocktails and will be followed by a spectacular Pacific Island Cuisine Buffett by the Chefs of the Grand Wailea.
5.     A chance to win a diamond worth $8,000!  The ticket for the event costs $175. The champagne glass to purchase to be eligible to win the diamond costs $75.  For a total of $250 you will have a chance to win a diamond that is valued at $8,000.  That is exciting!
6.     Love to Travel or Go To Disney? Well, there is a chance to win the Trip To Disneyworld for Two! That includes airfare, hotel stay and food! Not into Disneyland either? Don't lose heart – here are over a hundred of Silent Auction and Live Auction Items on that night, I am sure you'd find something you like to bid on. Check out Fantasia Facebook Page for updates on Auction Items Available.
7.     Dance! Dance! Dance!  There will be plenty of dancing. You can choose to watch or to participate. Professional dances are  Acrobatic Sensations of Musical Options Entertainment, David Ward, Seabury Hall Dance Director, Rita O'Conner & Private Image Dance Studios. You will enjoy watching them dance and you will be inspired to dance yourself!
8.     Entertainment by Espresso featuring Kelly Covington. Also by Connor Snow, Christi Fell, Cheyanna Simmons, Danielle Morton, Machela Wesson, Halia Haynesn, Mareah Lee are all going to be there.  An evening filled with beautiful music and songs.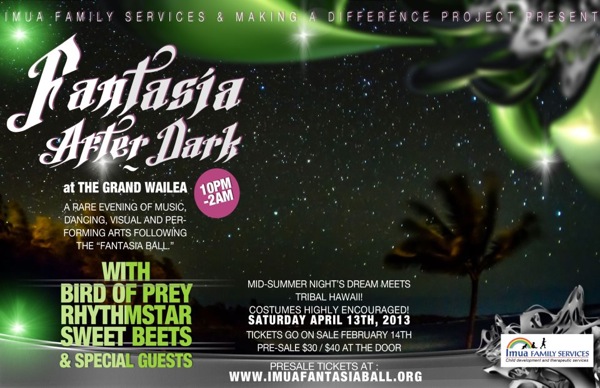 9.     Fantasia After Dark – Fantasia After Dark is being co-produced with the creative team at Making a Difference Project that cohesively brings together visual and performing arts mediums. Combining some of the most talented and well known DJ's like Bird of Prey, Sweet Beets and Rhythm Star add incredible talent like belly dancers, glo performers, twirlers, audio visual specialists and some interactive energy producing vibrational concepts such as the Color Box, and you have the makings of a fantasmic party mix.
Imua Family Services has worked with Making a Difference Project at Camp Imua – Bryan Axtell the founder of MAD project has been instrumental at helping create an artist performance night at Camp Imua under the stars to ignite the imagination and enthusiasm of the kids.
Guests who attend Fantasia Ball will be provided admission to Fantasia After Dark immediately following the Ball, but for those who just want to attend the After Dark Party from 10PM to 2AM there is a separate $30.00 ticket available for the after party. Tickets purchased the day of go up to $40.00 so they really encourage party goers to buy in advance.
10.  To support the Maui Community in general. This is an opportunity for companies to support by being a sponsor. Or maybe purchase a table and send your employees there to enjoy an evening for a cause. It is always good for us to give back to the community, and supporting Imua Family Services by attending Fantasia Ball 2013 is a win win for both your company and the community.
I will be at the Imua Fantasia Ball 2013 helping with the social media team via Edible Hawaiian Islands Magazine. Follow the hashtag #ImuaBall on social media channels to get the latest news and update, as well as to see the photos and keep up with the live tweeting during the event.
Hope to see you there! Again, here is the link to purchase the tickets for Imua Fantasia Ball 2013  and Fantasia After Dark
***
Up Next:  My solo Trip To Hana and My wonderful Overnight Stay at Travaasa Hana Resort.