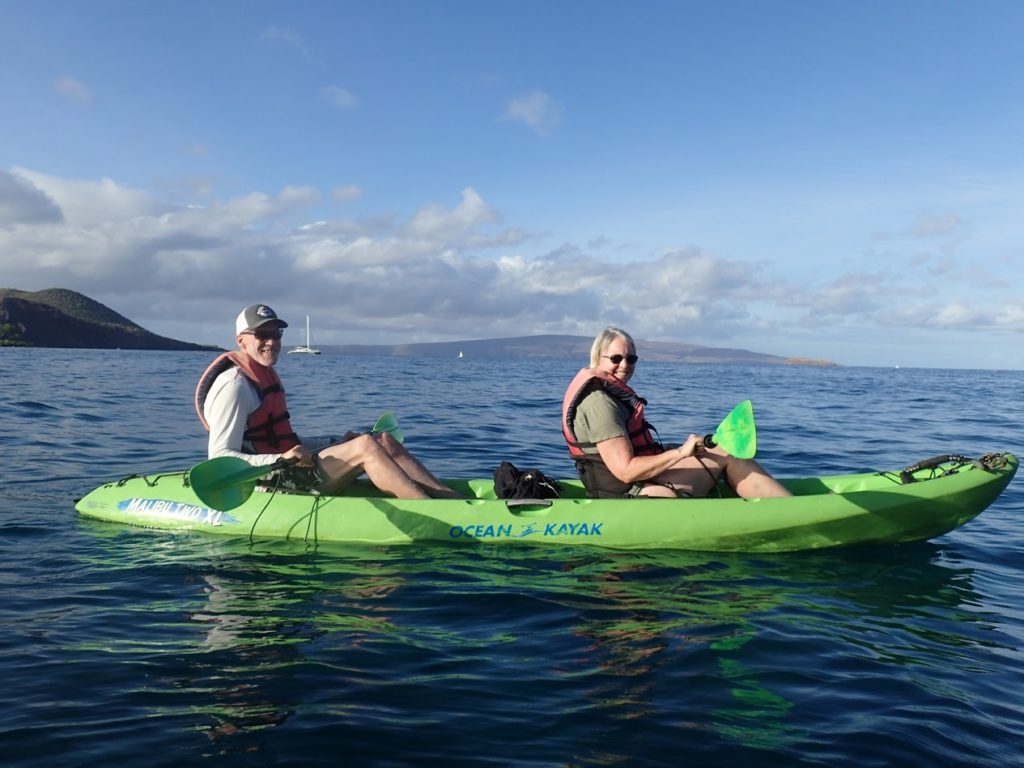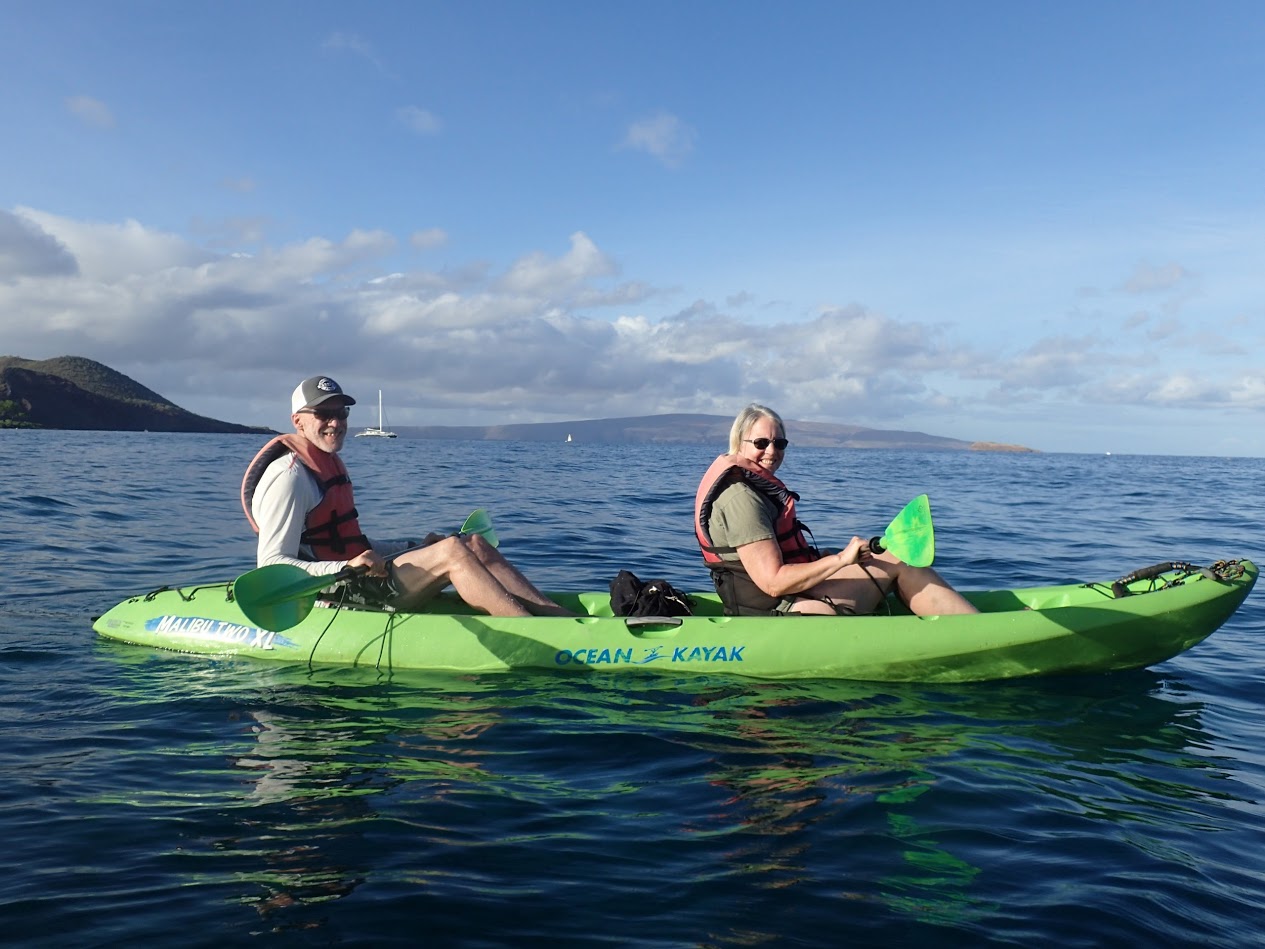 Saturday morning, we rushed off to our kayaking and snorkeling outing with Hawaiian Paddle Sports.  Curtis met us by the side of the road.  There were 5 or 6 different providers on both sides of the road, but we found him easily.  Curtis is a young guy who loves his job.  He gave us a detailed discussion of the fish and sea turtles we might see on our tour.  He also gave a safety talk and showed us how to properly paddle a kayak.  After lending me a little of his sunscreen ( I forgot to put sunscreen on my legs before I arrived) we went down to the beach to launch.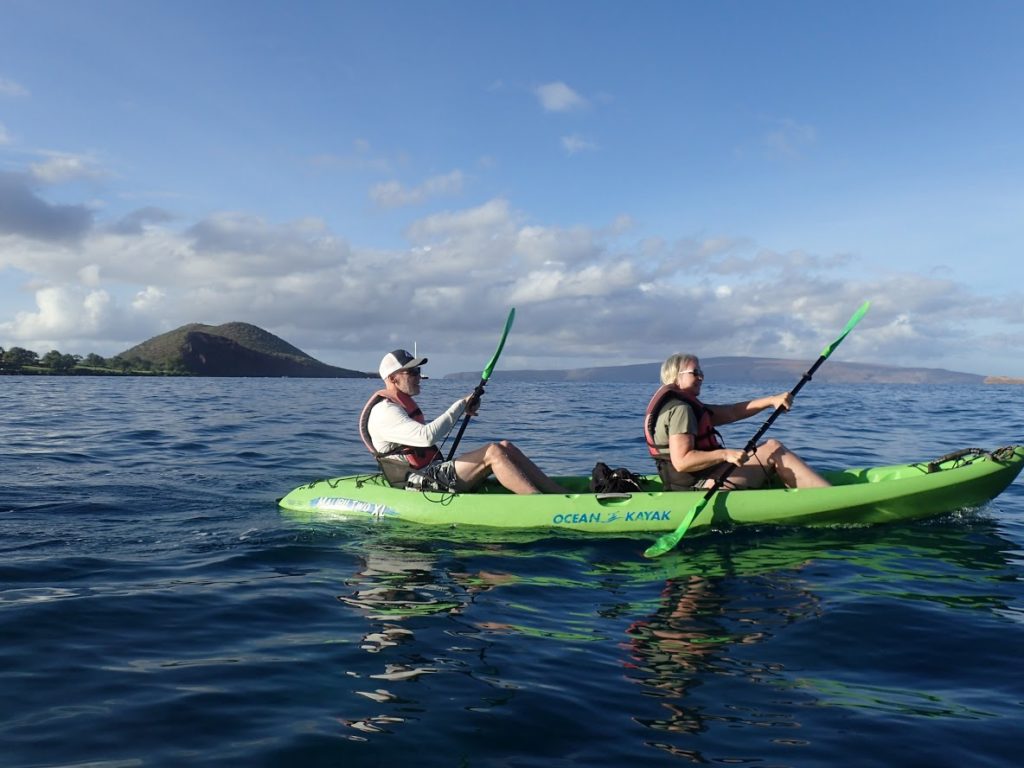 Curtis made us feel very comfortable as we slowly made our way out into the little bay that is Makena beach.   After paddling out a bit, Curtis started taking pictures of us and guiding us along.  While the other groups that left about the same time went close to the shore to see the turtles, Curtis went to the "caves " where we could have some space to snorkel.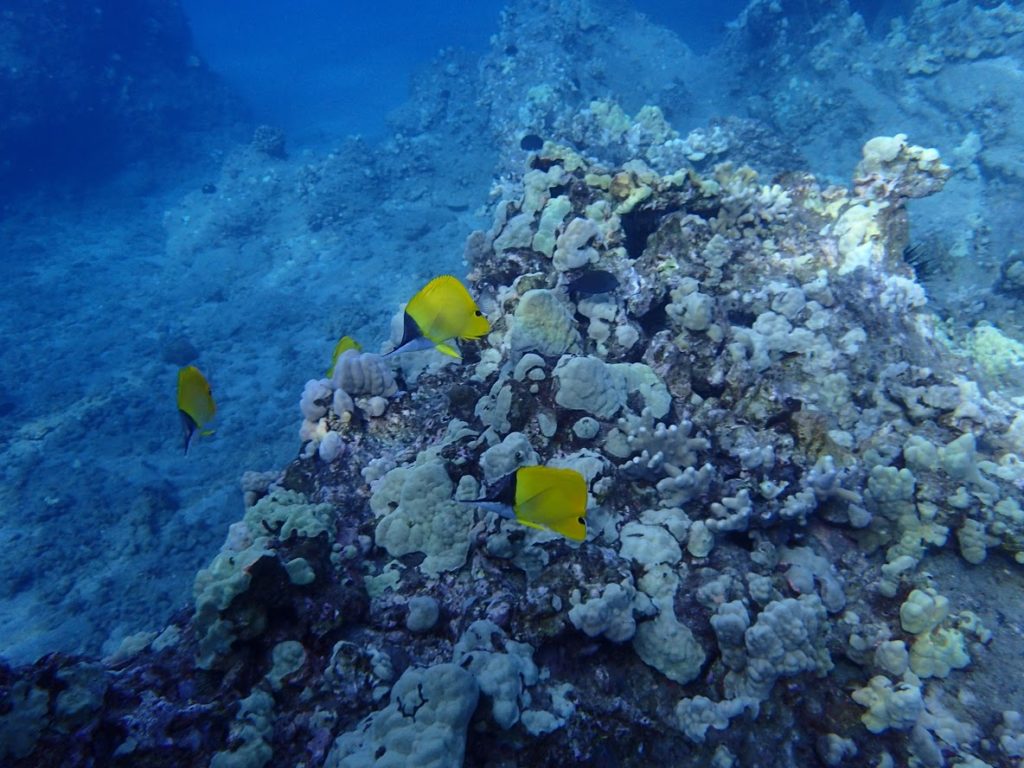 After prepping our masks, we were in the water and surrounded by a quiet beauty we had never experienced before.  Many of the species Curtis had pointed out were present and the water was clear and warm.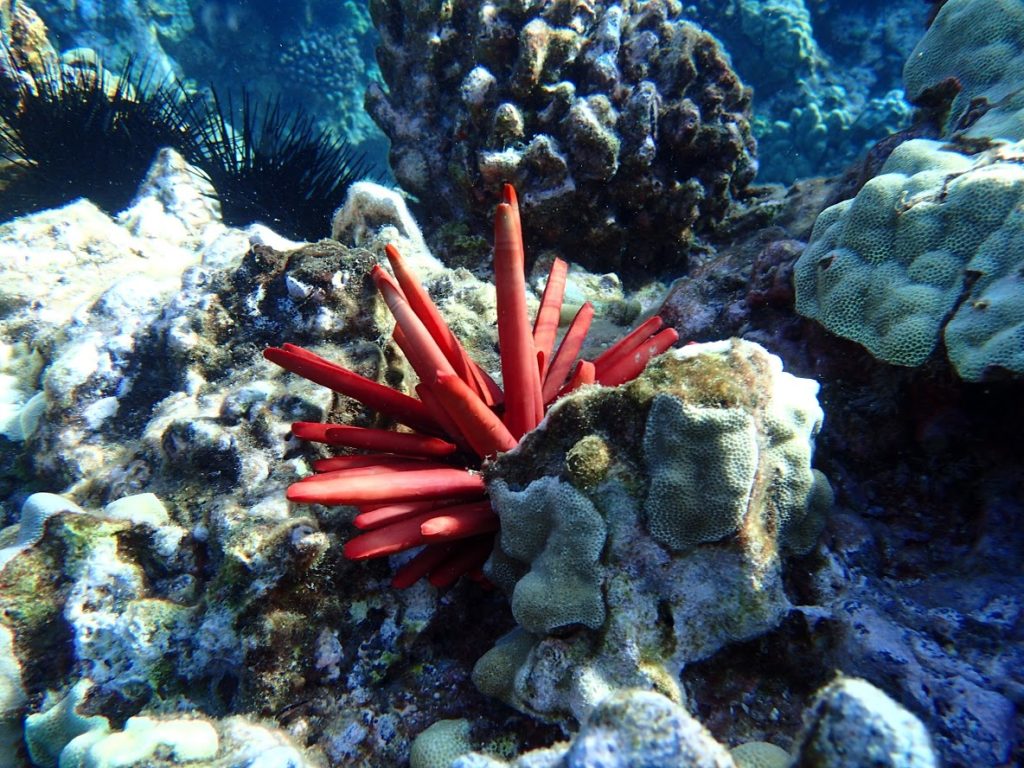 As we swam around, Curtis caught us holding hands and snapped a couple of great shots.  This underlined for us how sensitive he was to us celebrating our 40th anniversary which we had told him about earlier in the orientation.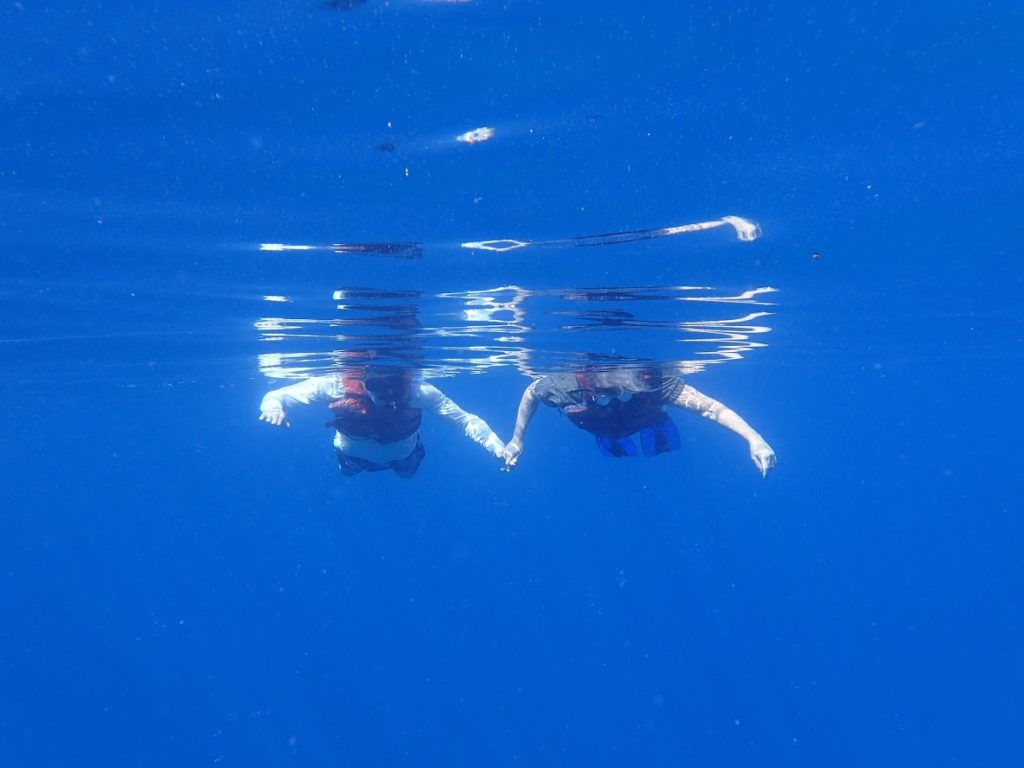 Curtis dove deep to get more great shots both of us swimming and of the fish and sealife. We were lucky enough to see a couple of Spotted Eagle Rays, one of which broke open and ate a sea urchin for our viewing pleasure.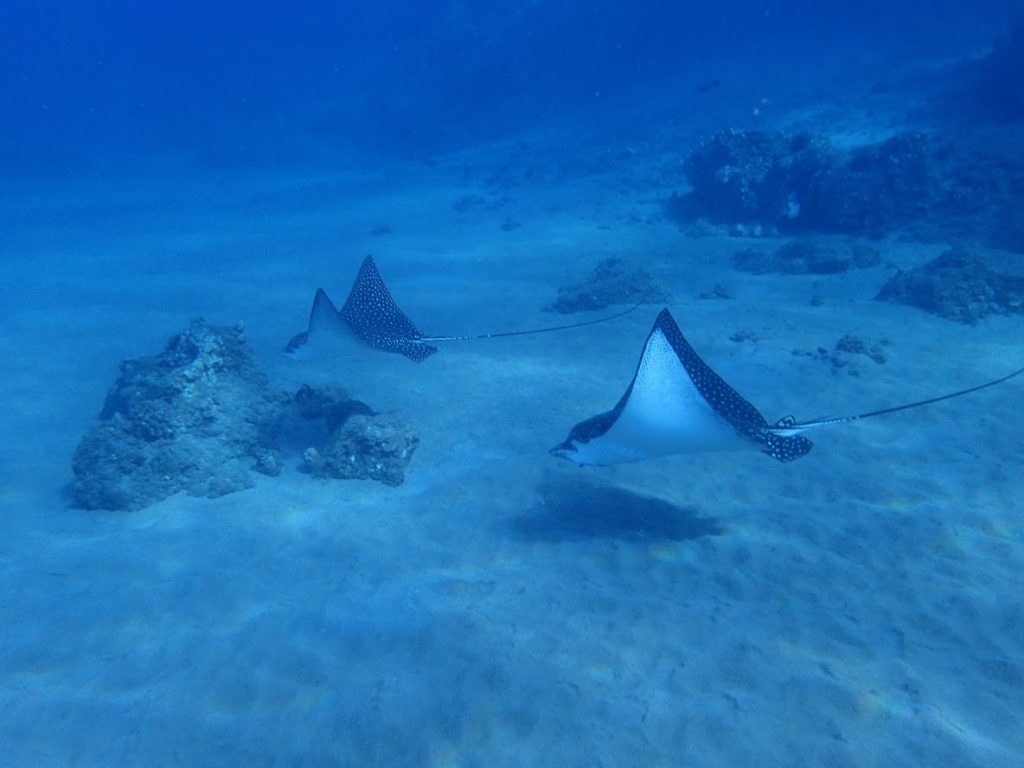 These creatures are awesome and graceful swimmers.   After experiencing the caves, we had some fresh water and a snack and paddled over to see the turtles.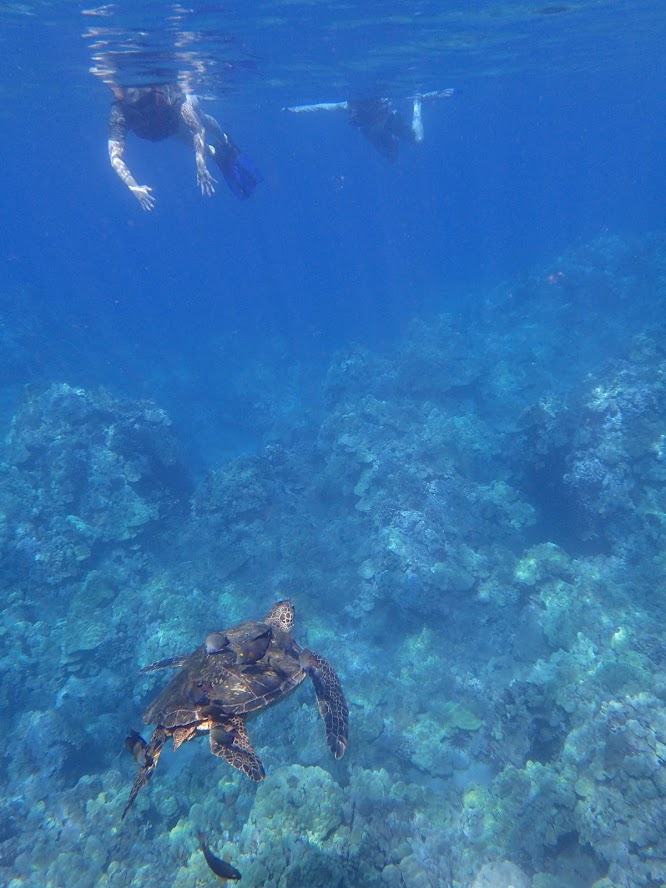 As we approached the area where the turtles hung out, the other groups were leaving, giving us another opportunity to freely explore the sites.  We  were able to see several sea turtles, one of whom took advantage of the "turtle wash" were multiple fish latched onto his shell to eat off the excess algae  and other unwanted baggage.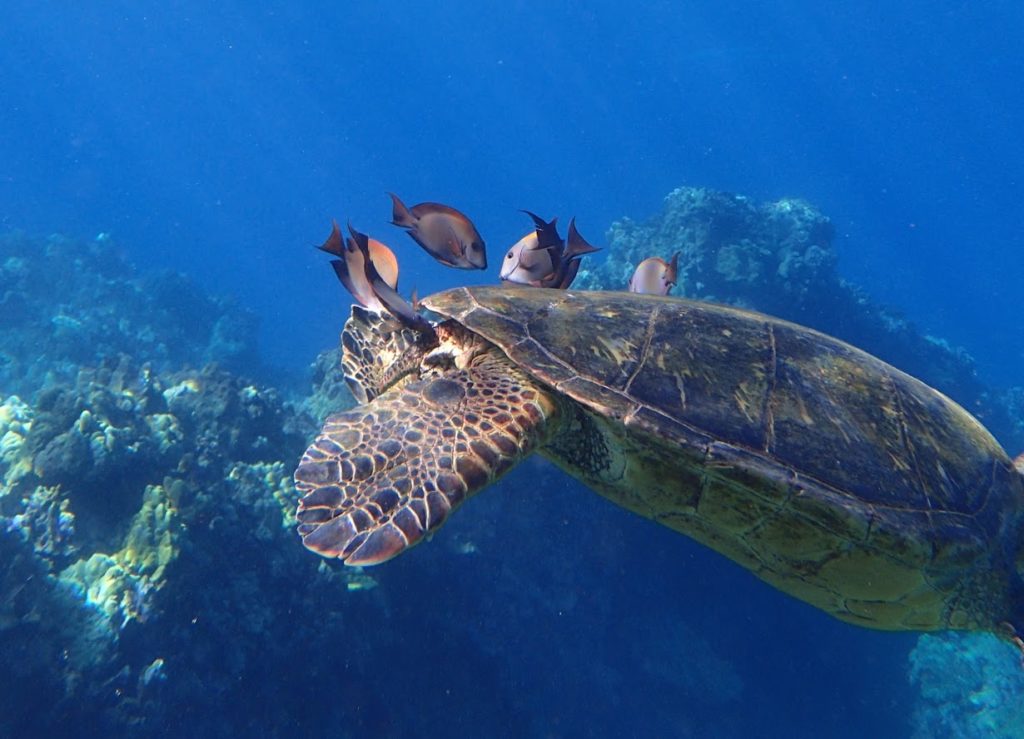 After  seeing the turtles and turning in our snorkel gear, we paddled back to shore and gathered our belongings.  Curtis got a decent tip from us and the assurance of a great recommendation.
It is rare that one finds a guide so passionate and knowledgeable  about his craft who is also sensitive to the needs of his clients.  Ten out of Ten!
Written by  Don King
***
Mahalo to Curtis and to Hawaiian Paddle Sports for a great kayaking and snorkeling experience on Maui.
Photo Credits to Curtis.  Mahalo for the great capture. Follow Curtis on Instagram at @mauifreediver
Follow Hawaiian Paddle Sports on Instagram at @hawaiianpaddlesports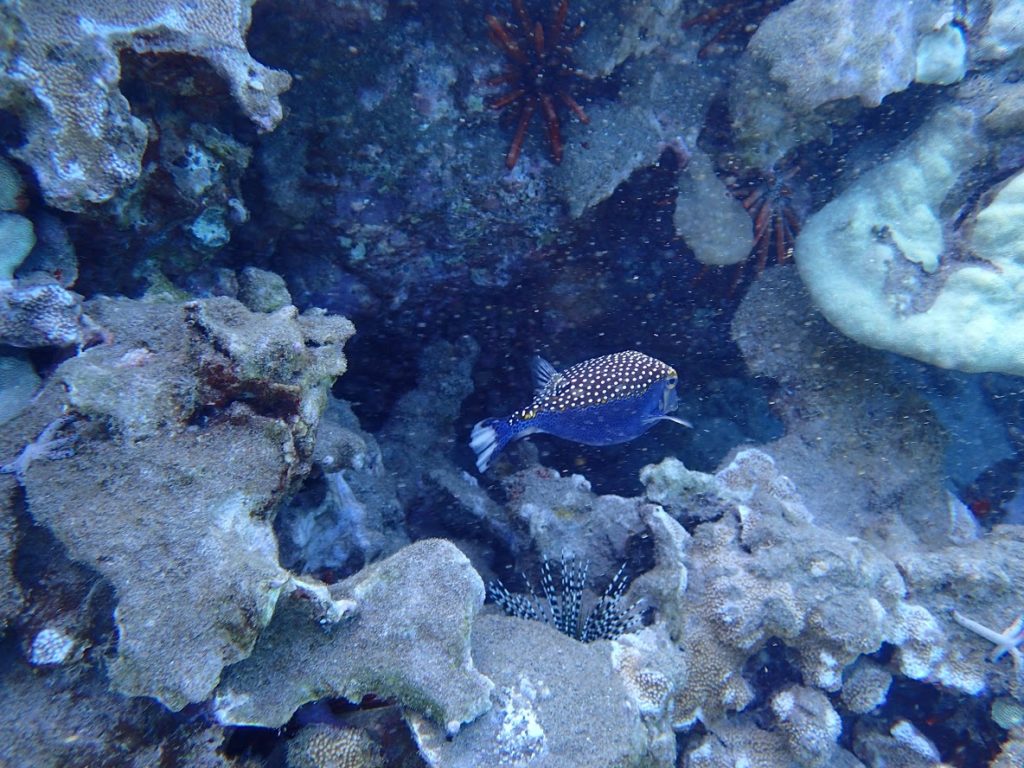 Background of this story:
Don and Sheila are our cousins from Colorado.  When they first told us that they are coming to Maui for their 4oth wedding anniversary, my husband Brad and I were stoked!  Brad and Sheila have a close relationship as cousins (they grew up together) and we've spent time with their when we visited the mainland.  We couldn't wait to spend time with them here and show them Maui. While thinking of the things they "should" do on Maui, I was reminded of several things:  1) it's not for me to plan what they should do, so I made sure I consulted them and just gave suggestion 2) there are so many activities on Maui; hundreds of them; and they can't do them all so we have to make sure choose the ones they will enjoy the most.
I was told they enjoy snorkeling.  I remembered some of my friends recommendation about Hawaiian Paddle Sports being the best activity company for water activities, so I connected Don and Sheila with Hawaiian Paddle Sports.  I am so glad to hear that they enjoyed their time Kayaking and Snorkeling, as shared by Don  on the post above.
They also did Stand Up Paddling with them.  And that will be another post (stay tuned)
Aside from Kayaking and Snorkeling, there are many other water sports and activities that you can choose from at Hawaiian Paddle Sports.  Make sure to check out their out their website www.hawaiianpaddlesports.com for details.
And with Whale Season upon us, I think it's a great time to book kayaking with Hawaiian Paddle sports.  Check out this short video to see what I  mean.  Yep, you might just see a whale close by as you kayak. Wouldn't that be awesome!