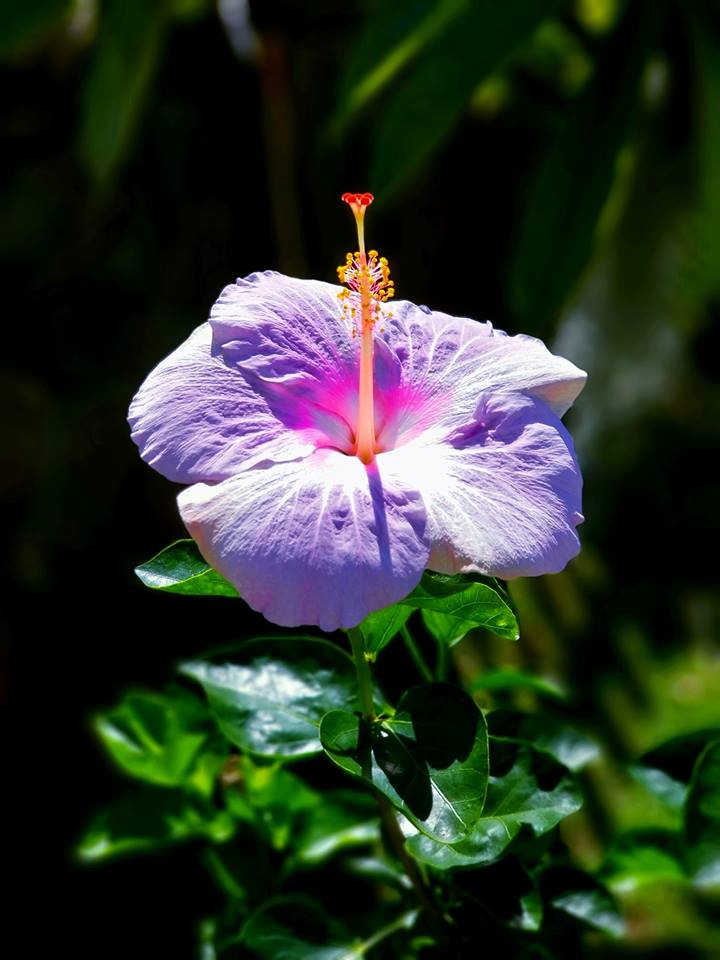 Let me disclose up front. This post is not about hibiscus. I placed that hibiscus photo up top because people love hibiscus. It's colorful, cheerful and nice to look at. Is it a bait? Not really. But it's a nice cover photo for this post. I especially love this purple hibiscus.  It's unique.  Have you seen a purple hibiscus before … I mean have you seen one "live in person"?  This photo was taken by Michael McGill a.k.a. @425mauimike on Instagram.  It was taken in Lahaina, on Maui!
Now on to my musing ….
This post is random. If you've been following A Maui Blog for sometime now, you know I like random. Many of my random posts actually became my part of my most popular posts. Go figure .
Last Friday I posted a challenge on the Maui Bloggers Network on Facebook. The challenge is to write a post and publish it this weekend. Needless to say, the challenge is really for me. Because I tend to procrastinate. Not that I don't know what to write, it's I have so many ideas on what to write about, I get "paralyzed" and never write a thing.
And when I get overwhelmed by what to write first, I also get overwhelmed by the many other things I have to do other than writing.
Exercise (walk to the beach) or write a blog?
Declutter my closet or write a blog?
Cook (breakfast, lunch, dinner) or write a blog?
Walk our dog or write a blog?
It really does not have to be that complicated, but it feels like it.
And here's another dilemma. My BOOK.
Remember when I told you that I am going to write a book? Yeah, that was in September 2017.
What's the date today? January 27, 2018. Ummm… yeah, not done with the book yet.
Oh, I have an outline and I am have written some. Maybe it's 60% done, but the 40% remaining … it's a drag. Oh, I should just let go of my ideal book and write just like I am blogging…..
My ONE THING should be to finish the manuscript of the book and hand it over to an editor.
FOCUS.
Can I share with you some of the "distractions" I had since I decided to write a book? Most or all of these are good things and somewhat related to the big picture of me writing a book about MAUI, but I must remind myself to do first things first I block a time in my day to finish the book….
Started Facebook Group About Maui called VISIT, LIVE, LOVE, MAUI. Oh, it's a success! In five months we grew from zero to 2,150 members (and still growing). The best thing is many of the members are as passionate about Maui as I am that I don't have to worry about what to post. The members of the group engage with each other. It's dynamic. It's helpful. I love it!
Revitalized the Maui Bloggers Network Group on Facebook, and started an accountability group. It's not easy to be a blogger. I firmly believe in the power of networking and accountability group so I started a network and accountability group. This is very valuable to me and I hope the members of that group are finding value as well.
Enrolled in an Affiliate Marketing Online Course. I must admit, I feel the need to "monetize" my blog. Not on an "in your face" kind of way… but maybe just a discrete affiliate links here and there. I will explain this more in a separate post but I am mentioning this here because it did take me away from my focus on writing the book.
Launched Maui Monday ( #MauiMonday) Facebook Live Show with my friend Terri, sponsored by Wailea Realty Corp. – This is so much fun. I know we will get many views (like hundreds of views) but I didn't expect we will get thousands of view on our first 3 Episodes, and we did! Oh, joy! If you missed seeing our previous episodes, you can click the click here: #MauiMonday Episode 1: Things To Do in South Maui; #MauiMonday Episode 2: Beaches in South Maui; #Episode 3: News Place To Eat in Kihei.
Watched way too many Youtube Tutorial Videos on How To VLOG and Have a Successful YouTube Channel – With the success of the Maui Monday Facebook Live I thought, "we should be doing YouTube Vlog as well". Ha ha! Slow down missy ….we can't do them all!
Read a lot about PINTEREST and had a revived interest in it. I even downloaded Tradewind and started a Tribe. Remember when Pinterest just started? Oh, my … I pinned like crazy! It was fun, it was somewhat relaxing. Then I started evaluating. I asked myself "why am I doing all these pinnings?" When I couldn't justify the time I spend on pinning with the real reason why I am pinning, I stopped pinning. But now I am looking at Pinterest with a fresh point of view. More about this later – maybe on another post. For now, follow me on Pinterest here at A Maui Blog
So you see, the list above is in themselves all good things for the book, and also for what I do as a social media professional. But the BOOK. I need to focus on finishing the manuscript for that book.
So I am ending this blog post here and will work on my book.
Hey, are you interested in receiving a copy of the outline of my book? Yes? Really? May I ask you to leave a comment below? I send a message via this Contact Page.
I look forward to hearing from you! Aloha and A Hui Hou!