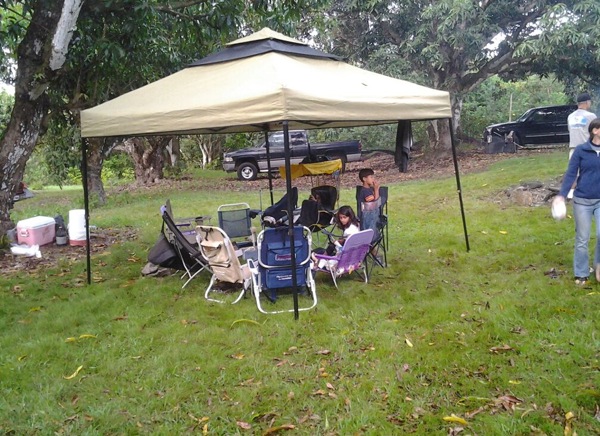 Yey for camping! As I shared with you on my previous post, we have lined up many activities for this Summer 2012.  We started off with camping this weekend and it was so much fun.  Instead of camping on Kipahulu like we did before, we camped on a private property we fondly call Mangoland.  It is owned by our dear friends who became our hanai family here on Maui. Lucky for us!
There were five families altogether in the camp including TutuMan (the owner of Mangoland).  There were 9 kids ranging from 7 to 15 years old, and a 4 year old dog, Sonny Iggy.  You won't see much photo of the kids here because I wanted to respect their "privacy".  I know that the famlies we were with are not so "into" the social sharing online as I am, and I respect that.
In addition to respecting their privacy, I actually really did not photo from there this weekend.  Somehow I went into a relaxed unplugged mode while there. No use of digital and electronic tools (the photos here are from my hubby), no internet, no phone, simply unplugged. I loved it! See my smile on the photo below? Yep, I am one happy camper!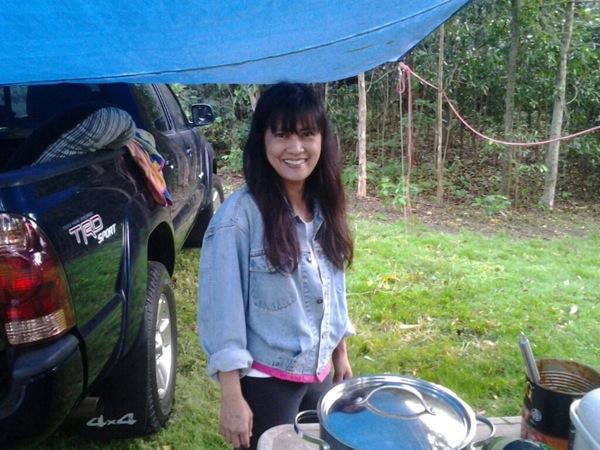 We went camping on Saturday, stayed overnight and came home Sunday mid-day.  It rained while we were there, and that is not unusual for Haiku. As many locals know,  it rains a lot in Haiku, Maui.   I liked it though. Living on Kihei, a town with very little rain, it is refreshing to experience rain once in a while. It's also a "bonding" element. We were all squeezed under the tent talking story.  At night Chris, played ukulele and we sang (ahem, yes, we, I sang very softly just to participate, and let the ones with the good voice actually sing 🙂
Notice that huge empty can of chili on the photo? That's what we had for dinner.  Warn chili and rice is perfect for camping! We also had saimen (ramen noodles).   How about you, if you were to go camping, what kind of food do you usually bring?
Here is another photo of Mangoland.  Can you tell why we called the place Mangoland? 🙂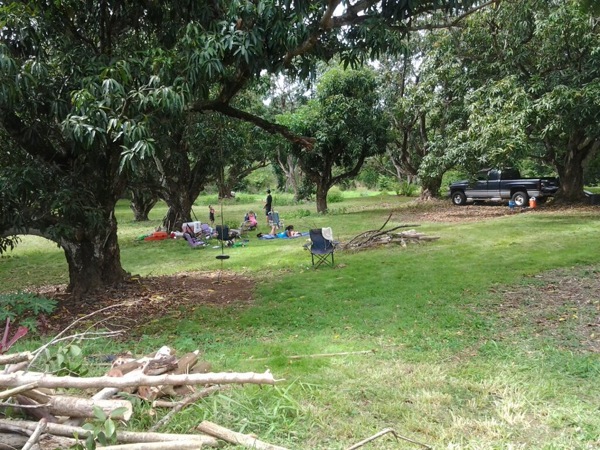 I am really excited about blogging our summer adventures.  It makes blogging a lot more fun and the posts a lot more interesting. Today we are off to a Beach Family Day and Baptism at Kamaole Beach III in Kihei.  Maybe we'll see you there?