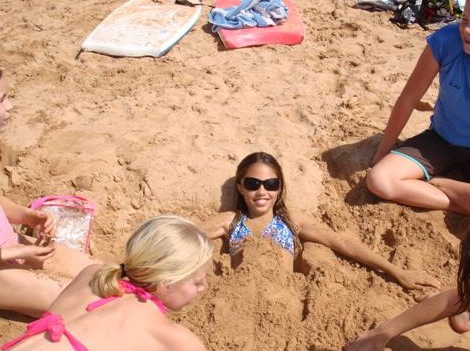 My kids' last day of school is June 5th, then off to a fun summer vacation!  Although there is no huge vacation plan in the horizon, we live on Maui and therefore we can also opt for staycation and still have fun.  There are so many things to do and experience – I love living on Maui!
Here are a few of the things to do already on our list:
Camping – we are scheduled to go camping with our friends in Haiku.  We love camping, it's a great family bonding time.
Barrio Fiesta – today is the Barrio Fiesta at Wailuku Memorial – I's take lots of photos as I eat  turon (banana limpia) and halo-halo.
Fun at the Beach – On Memorial Day, Hope Chapel is having a Baptism and Family Day at Kamaole Beach III in Kihei.  We'll put our sun screens and will stay there all day 🙂
Restaurant Hopping –  We want to try some of the restaurants we have not tried before.  There is this new restaurant at the Grand Wailea – it's Alan Wong's Amasia.   My mouth is getting watery as I think about this!   Yes, I'd blog about it and will let you know how it goes.

Zip Lining – On June 9, my daughter and I have  a date to go Ziplining at Piiholo Ranch.  Weeeee! I  had done ziplined before and it's fun.  This is my daughter's first time and she is so looking forward to it.


Wine Tasting – I am also going to the "Four Pinot at Four Seasons"  – it's a wine tasting event happening at the Four Seasons from June 7th through the 9th.  I won'r be taking my kids there, it's "me" time – or maybe I'd bring hubby with me if he likes 😉
Trip to Keanae and Hana – I am thinking that this summer we should do at least one trip to Keanae and Hana. I love these places.
Snuba Diving – I have heard of snuba diving and I have heard tourists enjoying it but I my kids and I have not tried it – so put that in our summer bucket list!
How about you?  Are you creating your summer bucket list  or things to do this summer list?  Can you share some of your ideas with us? I would like to read about it in the comment section.  Your ideas might be something we would like to do too. Please share 🙂