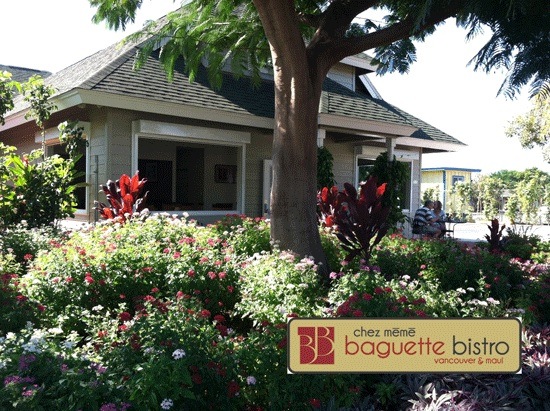 I first heard about Chez Meme Baguette Bistro from my friend Jon when he liked their Facebook page. A proof that social media does help spread the word quickly about a new biz. I liked their FB Page too and saw the many compliments they are getting from the people who's been there.
Today my family went there for a brunch and it was delightful! The food are delicious and the ambience is wonderful! The location, although a bit "off the beaten path" is really easy to find.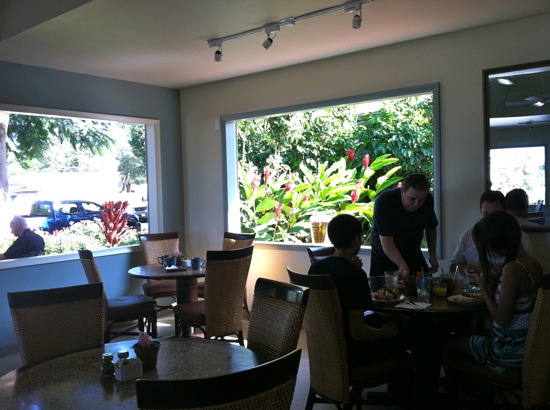 We arrived around 9:45 am and place is already filled with many people eating breakfast.  It didn't feel crowded even though there are only two tables left open inside and we occupied one of them. The lay-out of the place is well done.  I took the photo above after the customers left because I didn't want them to be concern that some crazy lady is taking a photo of them while they are eating 🙂
There are so many nice things I can say about this new restaurant but let's focus on the food for now. Like what I said, they are delicious! And the price is right too.  There is a variety of choices in the menu and it took me a little while to choose because all of the sounds good.  For example, there is that famous French Toast Trio made from fresh baked Brioche or that omelet made from fresh free range chicken eggs.  Ahhh, choices, choices!  Here is what we ended up ordering and we cleaned up our plate pretty fast!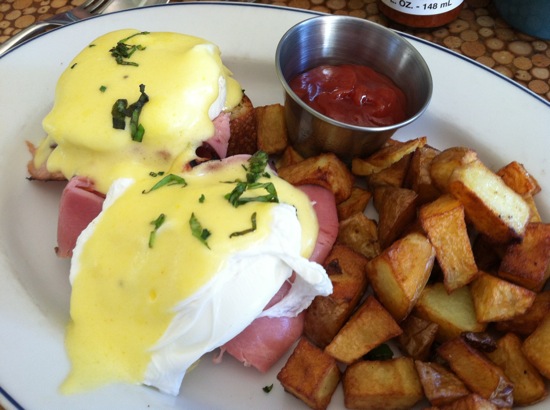 Hubby ordered the Eggs Benedict, a special for Sunday Brunch.  And yes, the eggs used are fresh and from a free range chicken. Doesn't that photo look good? It tasted great too!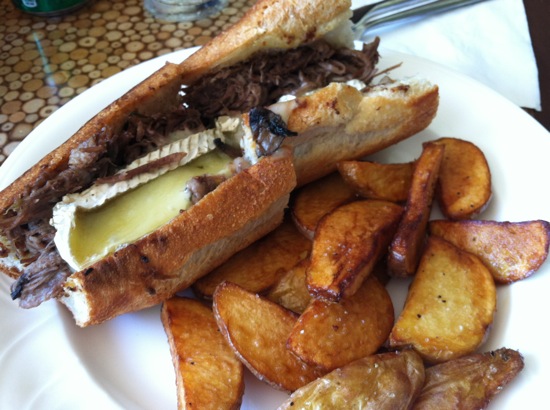 Hapa Boy Teenager 1 ordered  Jarret, it's a baguette sandwich with black forrest ham, brei cheese, and Dijon mustard.  It's savory  garlicky flavor is perfect for him. He loved the potatoes on the side too.
Hapa Girl Teenager 2 had the Omelet filled with bacon and cheddar. Like what we say in Hawaii, "broke da mouth" ono!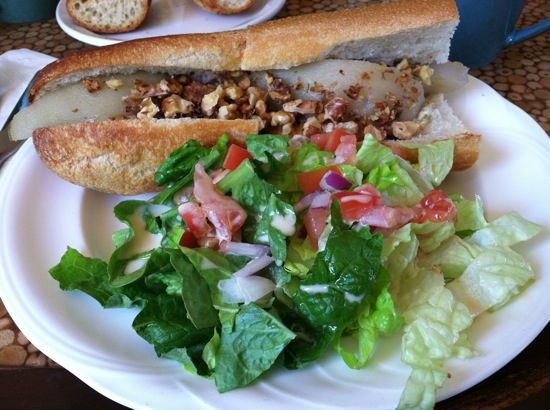 Last but not the least is my order. It is called From 'ton – a baguette sandwich with brie, warmed pears and toasted walnuts. It's something different and I enjoyed every bite of it. This is a good choice for vegetarians coming to this place.  It comes with the choice of Salad or Soup on the side.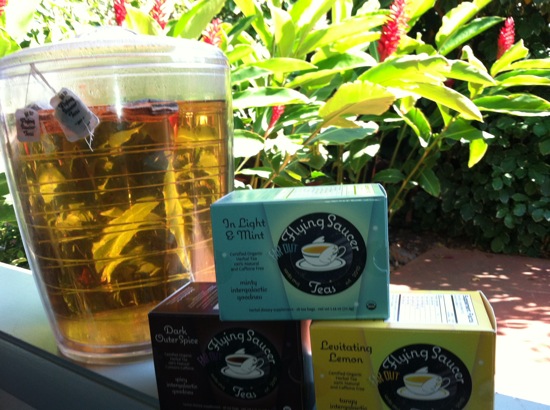 There are many choices for drinks too. The sun tea they serve is worth ordering. It's made by Flying Saucer  Teas. It is certified organic herbal tea, 100% natural and caffeine free.  For those who needs caffeine to wake up in the morning, order their French Press coffee instead.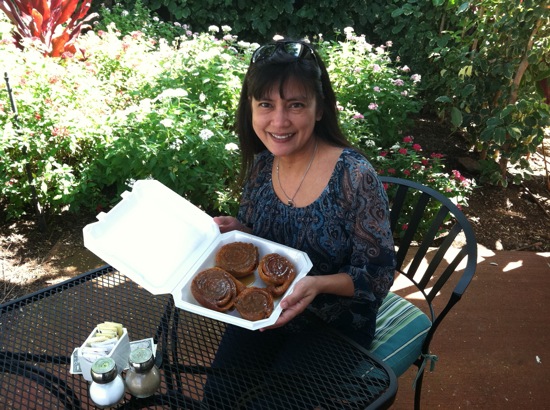 Now for dessert. Well, we really couldn't eat dessert anymore because we were so full, but we couldn't resist the freshly home made caramel rolls we took some home.  They are the bomb!  It melts in your mouth and taste like heaven 🙂  For the sweet lovers, this is a must try.
The is one thing that my social media friends and geek friend are probably wondering. That is, "do they have wifi"? The answer is NO.  This bistro is the place to unplug, and to enjoy good conversations with your family and friends while enjoying a sumptuous meal.  Sure you can still use your Iphone and Ipad there and get connected, but why?  I think it's refreshing to have a open air restaurant like this where you can relax and not worry about being connected in the internet.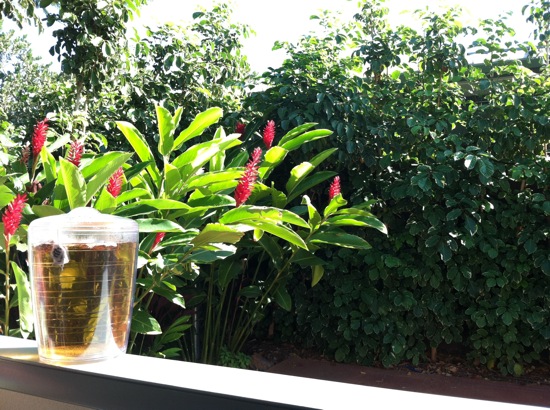 They are open from 8AM to 3PM.  I asked the manager/owner if they will someday open for dinner is he said they will do dinners only on special occasion. The place can be reserved for private functions, such a reception for a wedding, community or office events.  I can see how it can be a great place for a wedding reception.
And so that was our family brunch. I love spending time with my family and a great brunch together on a Sunday morning like this is such a pleasure.  I am glad we got to try Chez Meme Baguette Bistro and I am sure we will be back.