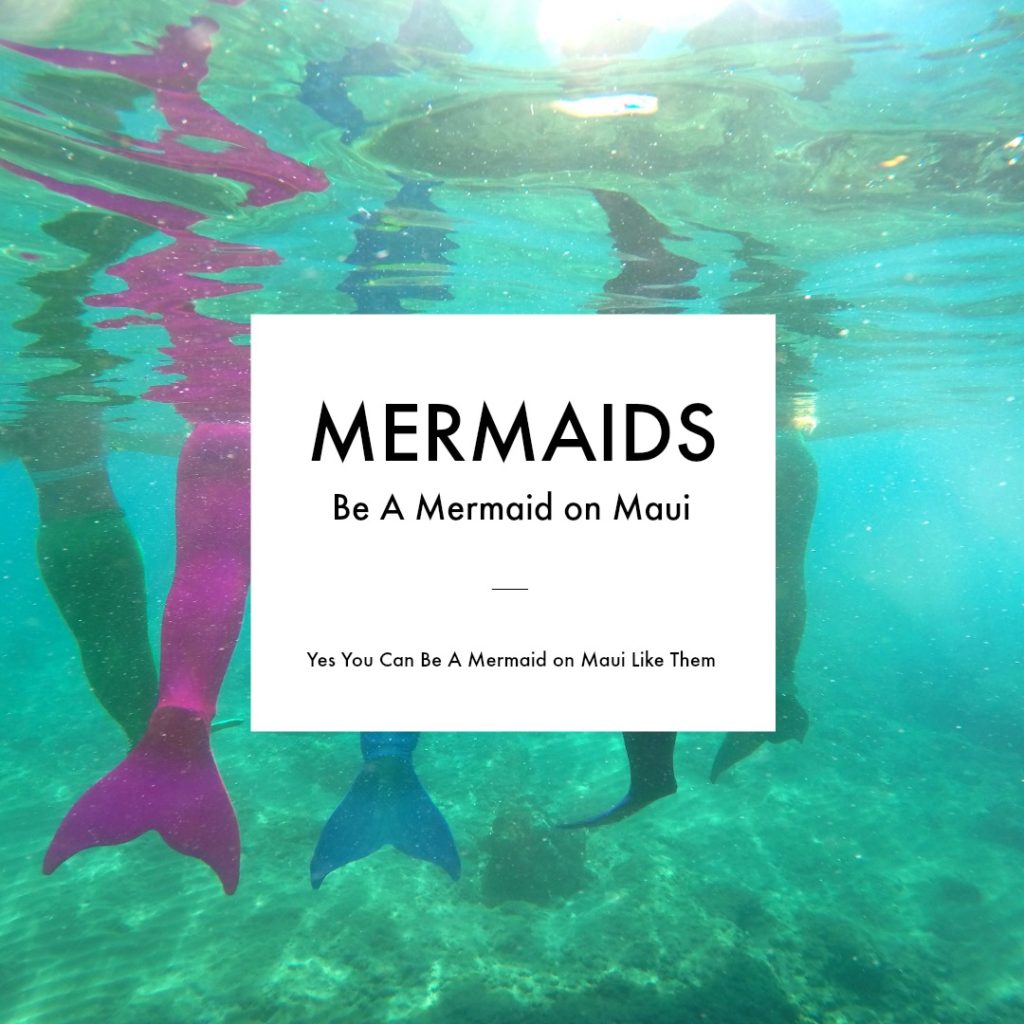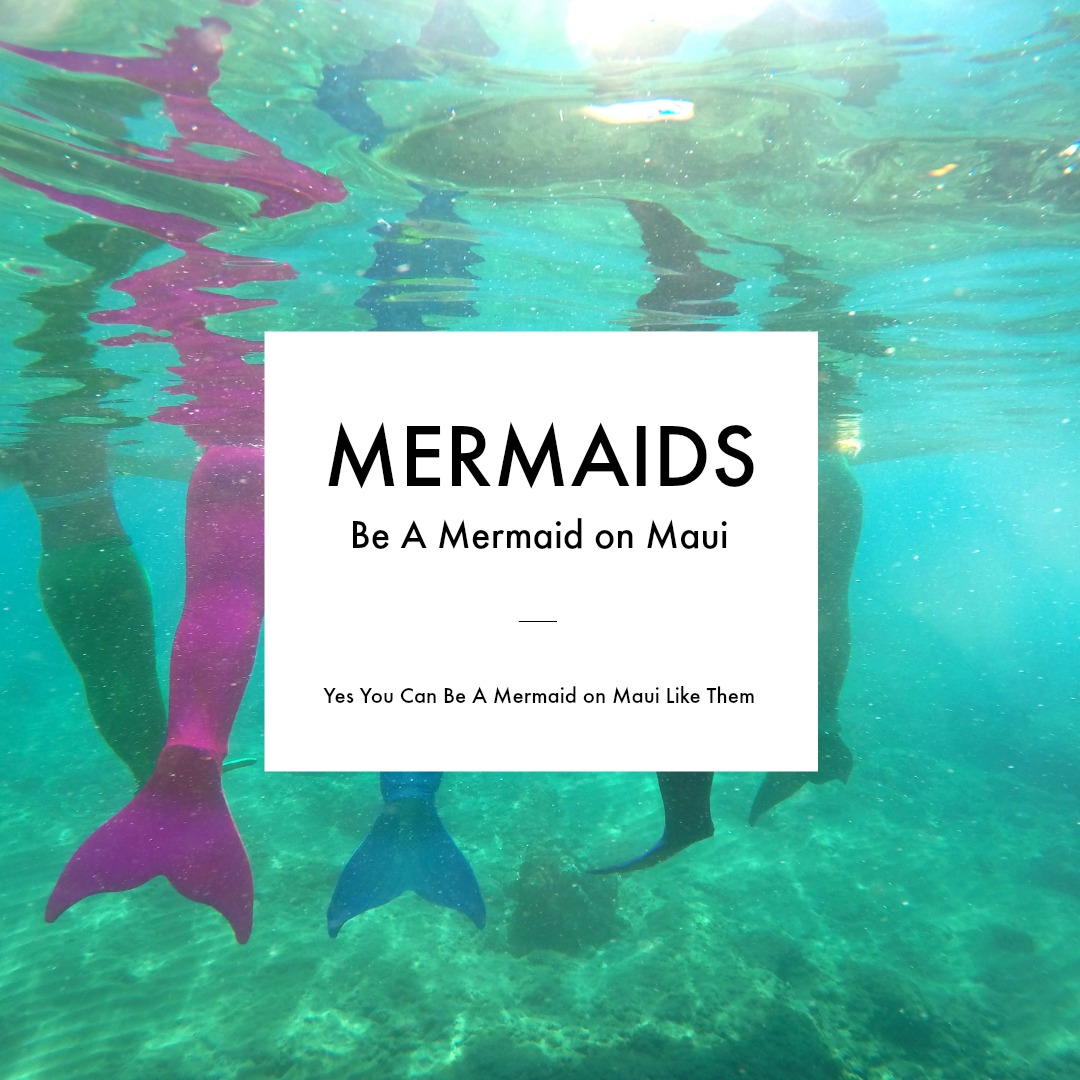 People seem to think that mermaids aren't real–but friends, I can assure you that they are indeed real. Just ask head Maui mermaid Lila over at Hawaii Mermaid Adventures  – she'll teach you all about the ocean and show her best mermaid tricks!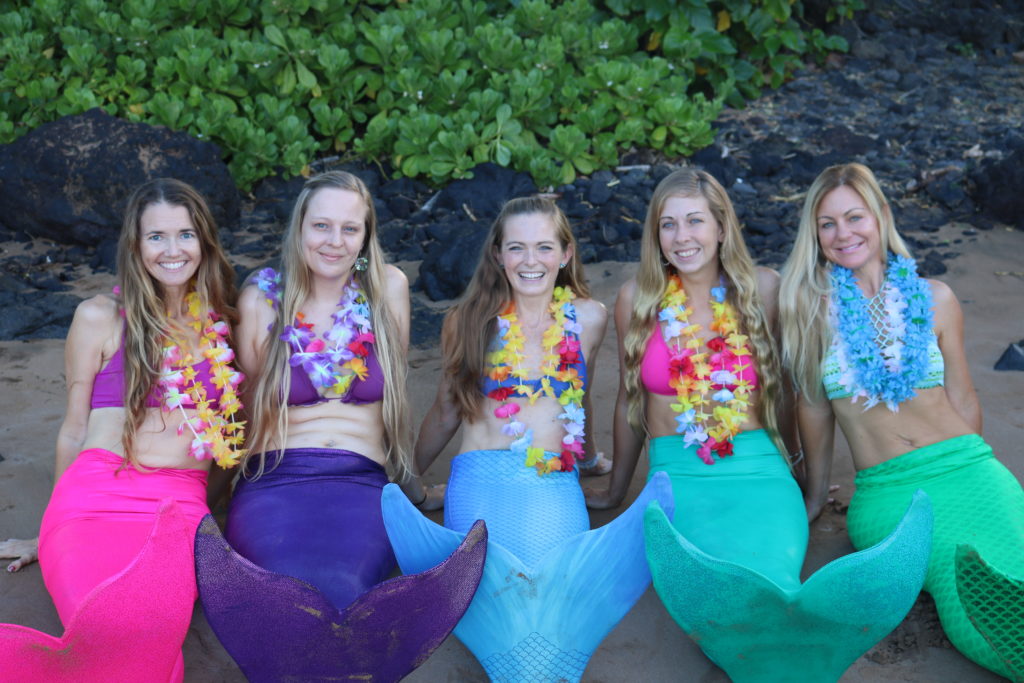 My friend Liza of A Maui Blog contacted me about doing a girls day out (and be mermaids for a day!) I jumped at the chance and called a few of my friends who I know have "inner mermaids" in them.  My girlfriends and I were counting down the hours until that dreamy day when a group of ocean-loving young ladies got to full-fill those childhood goals of becoming a real mermaid. Since I knew this was going to be an amazing day, I paid my teen daughter McKenzie to be our land photographer.  You can never have too many pictures, right!?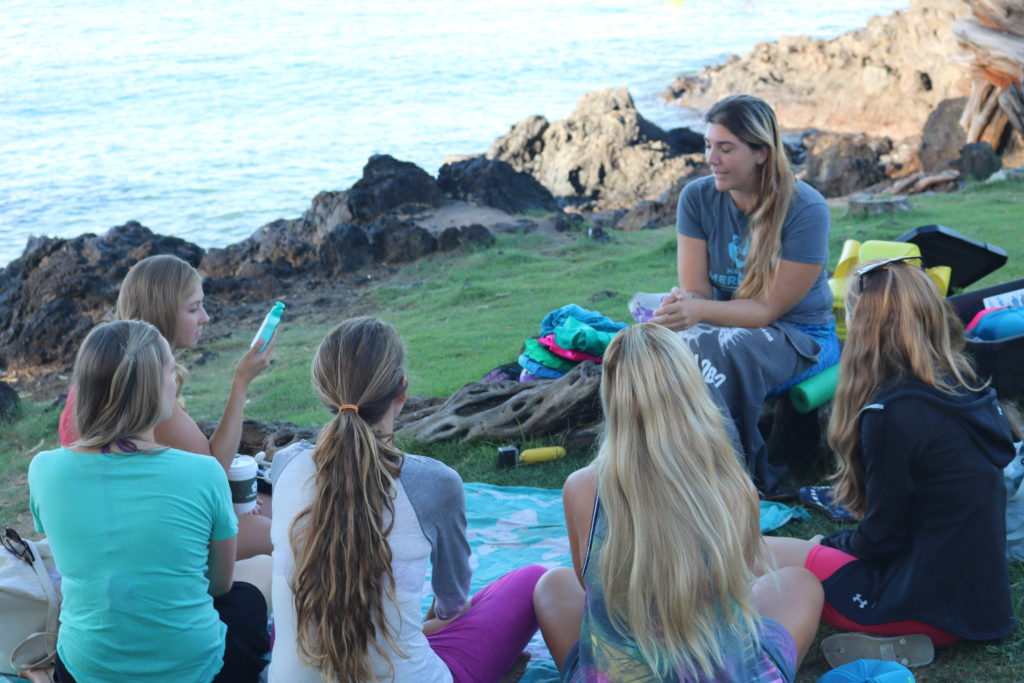 When we arrived at Makena Landing, Lila was already waiting for us with a smile on her face. We introduced ourselves and grabbed a spot on the mermaid blanket and she shared her knowledge of the ocean with us. She's a marine biologist and knows the importance of reef safe sunscreen and being conscious about the environment. One can certainly sense her love of all things ocean-related while listening to her talk. Lila gave some disappointing statistics about the amount of single-use plastic currently in our ocean, but also offered ways of doing our part to reduce our footprint.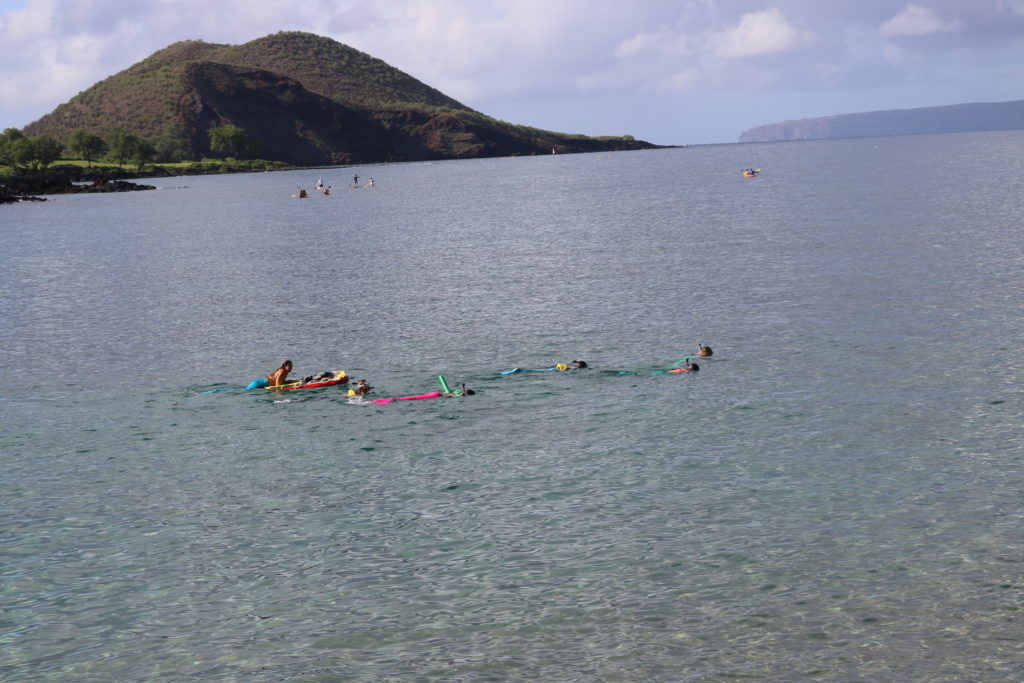 After our land lesson, we picked out which color tail we'd like and headed down the beach to take some photos. We slipped on the tail and the real fun began. Do you have any idea how wonderful it is to lay on a beach in Hawaii with brightly colored mermaid tails while the sun shines down on the water? If not, you need to find out. The morning turned into a mini photo shoot: Lila was capturing shots of us next to some lava rocks and McKenzie was shooting photos of us in front of the ocean. We pretty much felt like local celebrities as the divers and vacationers walked by and watched this all take place.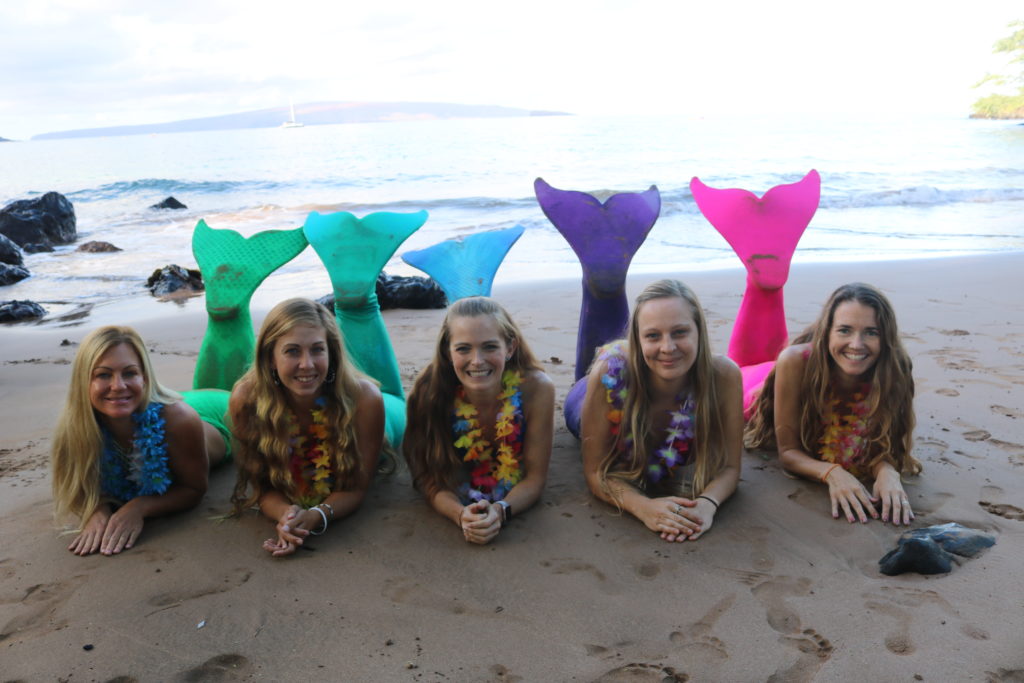 It was time to get into the water and work our fins. We took them off because hopping around in the tails damages them so don't try it. Pro tip: if you need to move from shell A to shell B while in "mermaid mode" try scooting, rolling or flopping. Remember: you're a mermaid and mermaids don't have legs!
Lila brought out a "floating station" into the ocean.  It was nice and sturdy and we could hop on to it one at time and slip back into our tails. She also brought out flotation devices so we could get a hang of how to swim without legs. She went over correct techniques and the spots we should stay in so that we keep away from the coral.
We slipped on our snorkel gear and slowly went on our way, getting a feel for swimming with a tail. It was easier than I thought–I was a little nervous at first that I was going to have a hard time with it. But it was pretty easy–and so fun! There were a few scuba divers below who looked up and saw mermaids swimming by and they had quite the surprised look on their faces.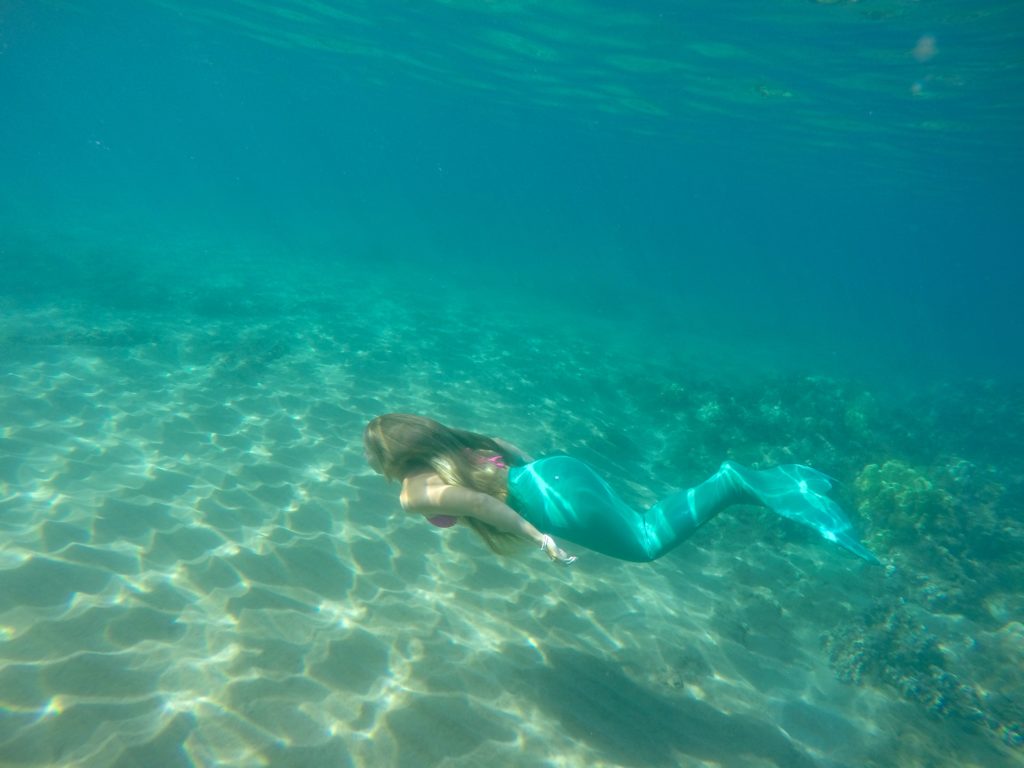 We played around and posed for photos and really soaked in the daily life a mermaid. The water was really clear so snorkeling with the fish was an added bonus.  Of course all of us had forgotten our GoPro cameras at home so we really focused on being present in the moment and left the photography to Lila and McKenzie.
The fin fun had come to an end and we had to head back to land. Once there, Lila opened a big tote to show us some items for sale: very cute and soft Hawaii Mermaid Adventures T-shirts and trucker hats, and reef safe sunscreen. We were all grinning from ear to ear, discussing all the fun that had just taken place. We had such a wonderful time making mermaid memories. This is a perfect day date for ocean lovers of all ages!
Mahalo for the splashing good time Lila and Hawaii Mermaid Adventures! This was a day of incredible memories that we will never forget! Mermaids are real. We can prove it.
Blog Post Written by Bridgett Parker of Bridgett Loves Maui (Mahalo for guest posting!)