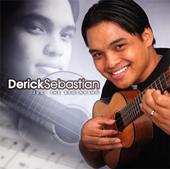 The first time I heard Derick played ukulele, I was amazed and mesmerized! I didn't know anyone can play ukulele as beautifully as he played it. I kept asking, is he using only and ukulele and nothing else? The music coming out of his ukulele is beautiful.  Sure I love the usual strumming sound of ukulele, like that in the song "Somewhere Over The Rainbow by Iz" – but Derick introduced me to a new dimension of ukulele and I've never looked at Ukulele the same again.
The thing about Derick is that he is so humble. Â He has this incredible talent on playing ukulele, and that has not gone into his head. Â Whenever I talk to him at church, he is so encouraging and respectful. Â He calls me "auntie" which makes me smile :). Â  If you go to his official website and read his story, you will find more about him, and you would love him, not only for his incredible talent but for his wonderful character as well.
For a sample of his performance, click here.
* Many mistakenly Google Derick's name "Derek". So I thought I'd write Derek Sebastian here so when that when they land here they can be directed to his official website.