So I decided to skip church yesterday and brought the kids to the event at Ulupalakua Ranch. The kids and I had a wonderful time. My husband is scheduled to teach in the Tweens class at church, so he didn't get to go with us. Next time we will come as a family (yes, after church next time)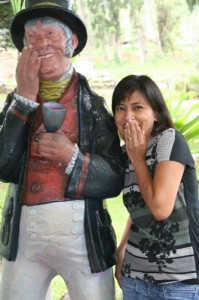 I had been living here on Maui for 17 years and this is my first time to go to Ulupalakua Ranch. Don't ask me why. I think it's just laziness and complacency. Thanks to blogging, I am now more motivated to visit places I've never visited on Maui and doing things I have never done before. The Ulupalakua Ranch is a very nice place to visit!
The kids favorite place is the Deli and the store. I must agree it's a very nice cozy place and the food were ono! (delicious). We love the picnic style setting on the side of the store. It was fun seeing our friends Amanda and Justine when we arrived there. Yes, they were at the Deli too when we first saw them. It's a fun place to hang out.
The Ulupalakula Cares is an event about environment, food and wine. And so there was a "Tree Tour", as well as Wine Tasting. I have 3 kids with me and the road is a little bit windy so I did not dare to taste the wine. Many did. They said it's good 🙂
I can go on and on about our fun trip, but once again I need to get ready for work. I am linking up with Sara today at Real Life's Your Life, Your Blog Meme. Go there and visit other bloggers sharing about their happenings 🙂