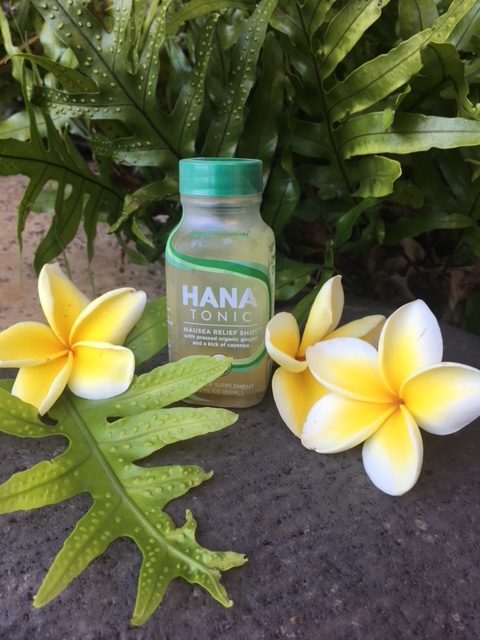 About a year ago, while standing in line at  Island Gourmet Market in Wailea, I noticed a little bottle and I was intrigued by it. It is called HANA TONIC.  I was very curious.  Is it what I think it is? I thought to myself.  I read the package and it is what I think it is!  "Hana Tonic is a nausea relief shot with pressed organic ginger and a kick of cayenne".  Brilliant! Simply brilliant I thought again.  (Oh yes, I talk to myself a lot 🙂 ).  You see, even though I don't get car sick on the way to Hana,  I know many of our friends who do, and it is a bummer to for them not to fully enjoy the journey on the road to Hana because of that.  Some people would recommend Dramamine but my friends get drowsy.  I usually just tell them to get Ginger Candies, but when I saw the HANA TONIC I thought "tonic" seems better.  Tonic sounds like a "magical concoction" … it sounds more like an answer to a problem… which in this case, it is.  I think its a solution to a problem. And so I did what I usually do: I took a photo of it and posted it on Instagram.  I thought it would be fun to show you the original post so I embedded it here:
Fast forward, a couple weeks later, I got an email from Renee, the owner/founder of Hana Tonic and she thanked me for the shout out.  I told her it was my pleasure and she's welcome.  I did mention though that I didn't really buy one because I was there just for my lunch break and not to shop for anything else.  She graciously offered to send me some samples and I was stoked about her offer.
Renee was very quick – very efficient I'd say.  I received my samples right away and I was very excited to try it.  Oh my oh my, it was good, especially when it is cold!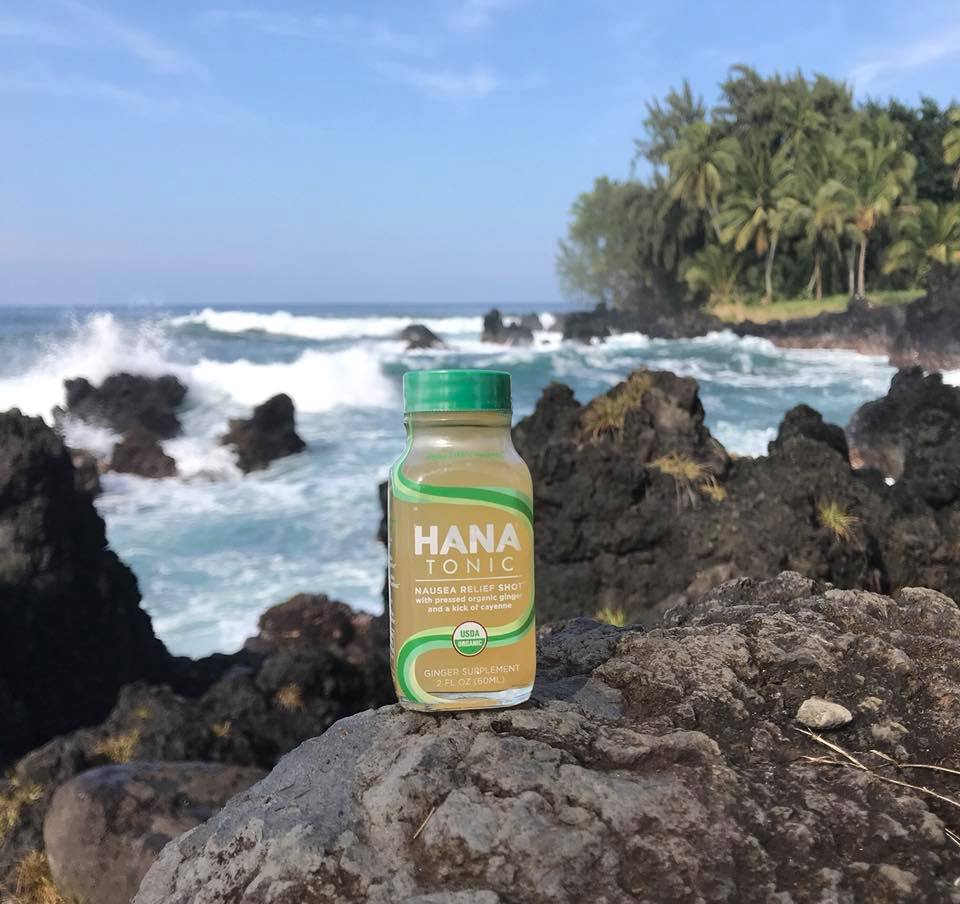 I planned to blog about it. But I  had been distracted by various life events, happenings and projects.   I didn't get a chance to blog about it, until now.  I must mention that Renee is very gracious about this.  Renee exudes the Aloha Spirit of a local gal and I think that's another reason why I love this product even more.   I am pretty sure this is not the last time I am going to blog about  HANA TONIC but I wanted to at least upload this one for now before I get distracted again. Leslie from R2H: Road to Hana will have another post for us for tips on driving the road to Hana sometime soon.
At this point, you are probably wondering? Does it really work?  Yes, it does!  How would I know … since I don't get car sick anyway, right?
First, it worked with some of my friends who I  gave Hana Tonic to when I received the samples.
And guess what? It also worked with my nausea of a different kind.  Read my Instagram post below:
Want to know the story behind HANA TONIC? Here's  it is from www.hanatonic.com
Co-founder Renee grew up on the island of Maui, Hawaii, and was inspired to create a natural anti-nausea solution after struggling with motion sickness on the infamous winding road to her hometown of Hana. Fueled by her passion for natural ingredients and armed with research from the National Institutes of Health, Renee developed Hana Tonic, with the mission to help people enjoy the journey! Renee quickly discovered the benefits of Hana Tonic went far beyond occasional motion sickness relief. The powerhouse blend of healthful ingredients in each little bottle helped promote energy, ward off colds, and even eased nausea during her pregnancy. Now she's made it a part of her family's daily health regime!
If you read the caption of my previous IG Post, you would have read that I am going to give away a box of HANA TONIC to one lucky winner.  Well, it's not actually the official box, but whatever I can fit in the small priority mail box 🙂 ) – All you have to do is send me your email via this contact form and you'd be entered in a drawing.  One lucky winner will receive the price!
Don't forget to follow HANA TONIC on INSTAGRAM  too.
Now for the  "THE ROAD TO HANA" part,  let me just share with you this video I found on YouTube.  It is well narrated and they gave some really good tips  (although  they need to inform about HANA TONIC … maybe I'd do that … I'd let them know so next time they can share about it too):
Follow HANA TONIC on INSTAGRAM
and head to the Contact A Maui Blog section – send me your email to have a chance to win HANA TONIC for you to try.  It's amazing!