UPDATE: A new blog post had been shared by our friends at Maui Pick-up – check it out here on MAUI UNCOMMON CLUES.
Booking a rental car on Maui is becoming a costly part of the Hawaii vacation with some car agencies changing as much as $400 per day. It's been a hot topic in Maui Facebook groups lately with some tourists experiencing last-minute rental car cancellations and others unable to book a car due to low inventory.
Why is there a rental car shortage?
The Spring surge in tourists caught rental car companies by surprise. For many months, rental cars sat deteriorating in fields because of the decline in tourism due to the pandemic. Agencies sent these cars back to the mainland to be used elsewhere or sold them to keep some money coming into their company.
"Maui Airports District Manager Marvin Moniz estimated that rental car companies shipped about 3,000 cars back to the Mainland and also sold some vehicles." – The Maui News.
When the spring break crowds came in, rental car agencies were unprepared for the greatly increased demand. Smart travelers quickly turned to local rental companies to solve their problem, but now even the local companies are finding themselves with more reservation requests then they can meet.
How to Navigate the Maui Rental Car Shortage
With higher than expected demand and low inventory, how can Maui visitors get around the island? In this article, we'll go over commonly asked questions about public transportation, private car pickup services, and rental car alternatives you may not have considered. All of these options are designed to give you the freedom to explore the island and enjoy your Maui vacation without having to shell out thousands of dollars for a rental car in Maui.
How can I get to my resort without a rental car?
You've landed in paradise, disembarked the plane and made it through the airport COVID screening. Now you're eager and ready to get to your resort and relax poolside. From the airport you have the following non-rental car options:
* Take a taxi or use a private shuttle service with resort drop-off
* Call an Uber or Lyft
* Use public transportation
Several of Maui's accommodating hotels offer complimentary or reduced rates for airport shuttle service. To check to see if your resort offers this service simply call your concierge. They are more than willing and able to answer your transportation questions.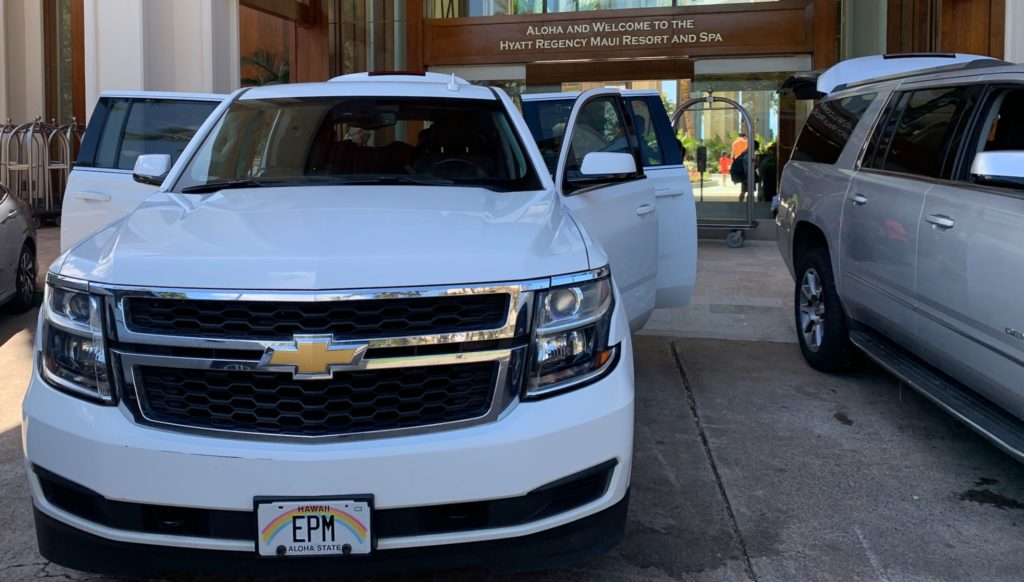 Locally owned businesses like Maui Pickup are saving visitors hundreds of dollars by offering airport pick up services. Comfortable and safe one-way transportation from the Kahului airport to a resort for up to 6 people is only $100. It is a great way to save money and get some local tips and tricks for your vacation from a friendly, knowledgeable resident!
Lastly, Maui does offer public transportation with 2 routes that stop at the airport. See more about that below.
Does Maui have public transportation?
The Maui Bus public transit service currently consists of 12 bus routes that cover south Maui, west Maui, the north shore, and Upcountry. However, there are only two routes that stop at the airport – the Upcountry and Haiku Islander routes. The bus is still an effective way to travel around the island. Visitors are advised to look at the Maui Bus schedule for departure times and luggage restrictions. Fares are very reasonably priced with one-way fares at $2 and a daily pass is $4.
What alternatives are there to renting a car on Maui?
A popular alternative to renting a car on Maui is to choose a resort with a great location. Staying in the beautiful area of Wailea will give you easy walking access to The Shops at Wailea, where many excellent restaurants and stores reside. Many of the condos in nearby Kihei are also within walking distance to beautiful beaches and dozens of eateries and shops.
Travelers are feeling increasingly comfortable with booking one-way transportation to restaurants, attractions, and activities using third party services like Uber and Lyft. Just be wary that availability of these car share services can be spotty in some areas and later in the evenings.
Tip: Ask your activities provider and hotel concierge if they offer any transportation. Some hotels in populated resort areas like Kaanapali offer free shuttles to nearby attractions.
What should I do if I must rent a car on Maui, but the big rental car agencies are sold out?
There have been so many posts in Facebook groups lately with visitors wondering how they can rent a car despite the big brand name rental car agencies being sold out. Thankfully you have a few options…
Support our local businesses. Local rental car agencies like Kimo's Rental Car or Manaloha have used cars available for rent. These cars are older, but still reliable. Another fantastic alternative is using a car rental app like Turo. This app allows Maui residents to put their own cars up for rent. Think of it like AirBNB for cars. Not only will you get a reasonably priced rental car, you'll also be supporting a local family.
How can I get to the airport without a rental car on my day of departure?
A majority of Maui's hotels and vacation rentals have an 11AM check out policy. On the final day of your trip, this usually means many Maui visitors with afternoon/evening flights have just two options: hang around the resort and book one-way transportation to the airport or use a custom pickup service that will make your last day memorable.
Private car services like Maui Pickup will meet guests at the resort and chauffeur them to a selection of stops, along with an airport drop-off to ensure vacationers get the most of the final day on Maui. These services are very well priced; starting at only $100 with each additional hour being $50.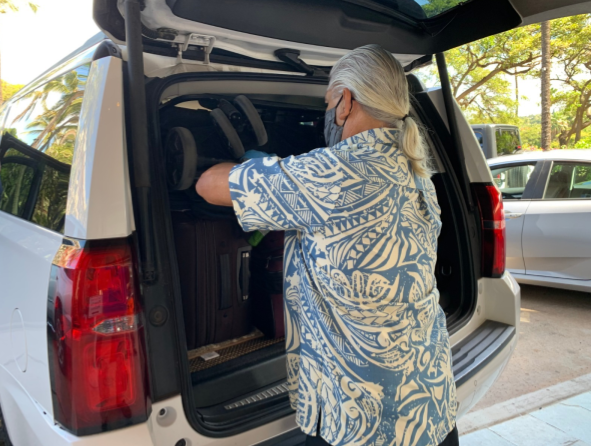 Other options for airport drop-off include taxi cab rental, Uber, and Lyft. These options are definitely effective for one-way travel, but might not be the most cost efficient for adding extra stops. They typically don't offer to watch your luggage or wait while you make stops.
Enjoy Your Maui Vacation!
Now that you're familiar with how to navigate the rental car shortage, you can rest assured that you'll enjoy your Maui vacation no matter what. There are plenty of options for traveling around the island safely that won't break the bank.
__________________
Aloha everyone! It has been a very busy month for me so I have not had time to write my own blog post. Thankfully we have guest bloggers who offered valuable information to A Maui Blog readers, like this one.  I am truly grateful to Maui Pick Up for this guest post.  As you may have noticed, they shared with you all the possible options you can consider, not just their services. It's up to you to decide. And that's a spirit of Aloha.  
Until next time, mahalo for reading and staying connected on Maui, via A Maui Blog.
Liza