This week an announcement was made by the  Technology News Bytes & Emerging New Media. They presented to public  the  12 social media influencers on Hawaii who have been chosen to be finalists for the "Top 5″ Social Media Award! Guess what? I'm included! I was humbled and honored to be part of this group of influencers.  All the nominees are top notch professionals! It's a bit surreal to see my face on the poster Hawaii Tech Events created: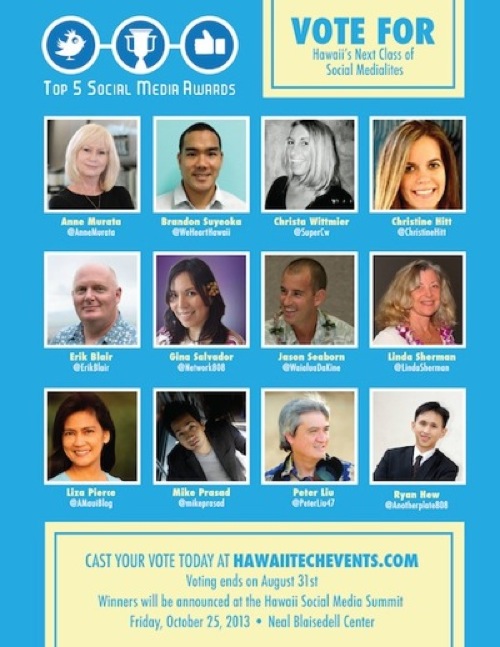 It's exciting to be representing the Maui social media community with my friends Peter Liu and  Erik Blair.  The "Top 5 Social Media Awards" will be presented at this year's Hawaii Social Media Summit on October 25-26 at the Neal Blaisdell Center in Honolulu.
Seriously, in reality, I already feel I am a "winner" just being part of the 12.  Prior to being a blogger and consultant, I did not have any professional background in marketing or press relations, and not even in technology. My major was in Psychology.  I started blogging in 2006, just because I love Maui and so grateful that I live here in this beautiful place. My career in social media evolved slowly. I was the the tortoise in the race … slowly, but surely…. by surely I meant the blog is surely getting a lot of attention now.
I think all of us 12 are already winners and honored just by being nominated.  However, part of the plan and the fun is voting for the Top 5, so we'll go along and do this.  And because this blog is called "A Maui Blog", I want to encourage you dear readers of this blog to vote for the Maui representative of your choice.  The vote will counted "one vote per person, as in one vote per email address".  Erik did a revised poster highlighting the Maui representatives … take your pick and vote here: http://hawaiitechevents.com/the-top-5-social-media-award/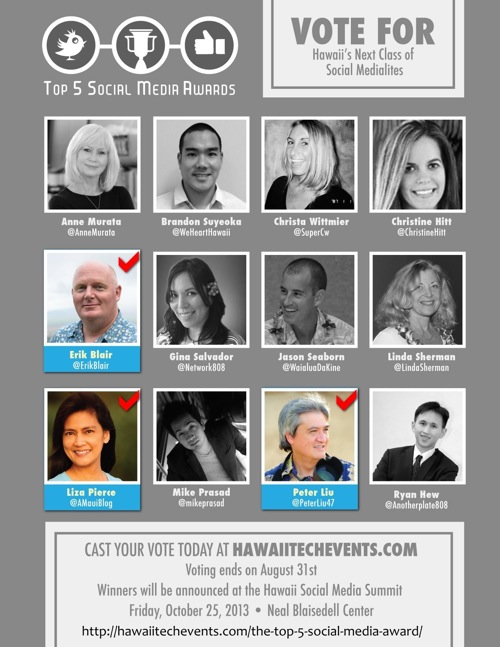 I am sure you noticed that in the title I wrote PART 1 – that means there will be PART 2, right?  Yes, you are right! Part 2 is coming soon (hopefully this weekend) so stay tuned.  And just to let you know, part 2 will be less about this voting event and will be more about Maui and A Maui Blog.
As always, I want to thank you for reading this blog.  It's always a pleasure posting here  and sharing with you my love for Maui and about Maui. Aloha Oi 🙂