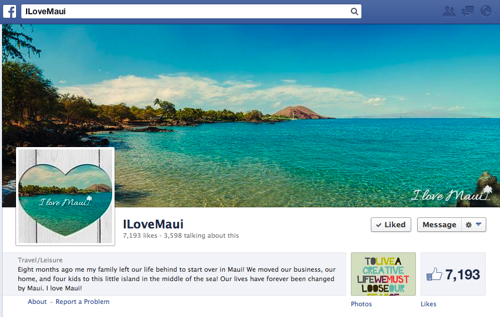 Here's a confession: I can't remember anymore why I titled my previous post  on "Just Because I Love Maui" with a "Part 1" …  I think at that time there were so many things that I wanted to share and when I had to end the post I thought I should continue my thoughts on the next one.  I still have many things to talk about Maui but somehow it's really not a Part 2. Oh well… let's move forward.
So…. here is the Part 2. Not exactly what i was thinking before, but it's about the love of Maui just the same.  This Part 2 is about Jen Varner and the ILoveMaui Facebook Page.
Have you heard about the ILoveMaui Facebook Page yet?  If not, you are missing out. If yes, then I am guessing you've liked it already.   The name of the page says it all. Jen started ILoveMaui Facebook Page because she simply loves Maui. The neat thing about following Jen's posts is that you get the sense of excitement and gratitude about living on Maui.  Jen and her family moved here from North Carolina about a year ago and they are loving it here.
I first "met" Jen via internet when her staff "introduced" me to her. I was blown away by her story of courage and resilience.  I wrote about her and her business on my blog Liza's Eyeview.  Then we connected via Facebook and became "early bird buddies".  Both of us wake up early and our paths crosses on Facebook every now and then.  We became "friends" in the true sense of the word, even though we still have not met each other personally.  Oh yes we planned to meet … but we are two busy moms with crazy schedules so it still hasn't happened.
Jen is a kindred spirit when it comes to being a mom, and also when it comes to loving Maui. She inspires me.
Jen has a beautiful family. Her husband is not on the family photo above because i think he's the one who took the pic :).  I love reading Jen's insights she shares on her posts, like these:
Living in Maui often feels like I am living a dream within a dream. Even on my worst day things are ok here. We take pleasure from the beauty of nature and simple natural events like watching the sunset, or walking on the ocean. Life here is slow, simple and beautiful. I may not feel happy every single day but no one can be happy 24/7. But no matter what I always feel content In my contentment I have found total peace. Maui has given that to me.

I was thinking last night that if one is going to Move to Maui you need to be ready to give. Maui, its' land, the people, will give to you so much! What will you give back? How can you make Maui a better place? The experience of living there has changed me so much and blessed my families life over and over. I hope I am always in a position to continue to give back but you can also give back by being respectful of the land, learning the culture and listening…really listening..
It was Jen's birthday a couple days ago.  That's when I started this post and  planned to make it live on her birthday.  Needless to say, it didn't happen. Nevertheless, this post says "Belated Happy Birthday Jen!"