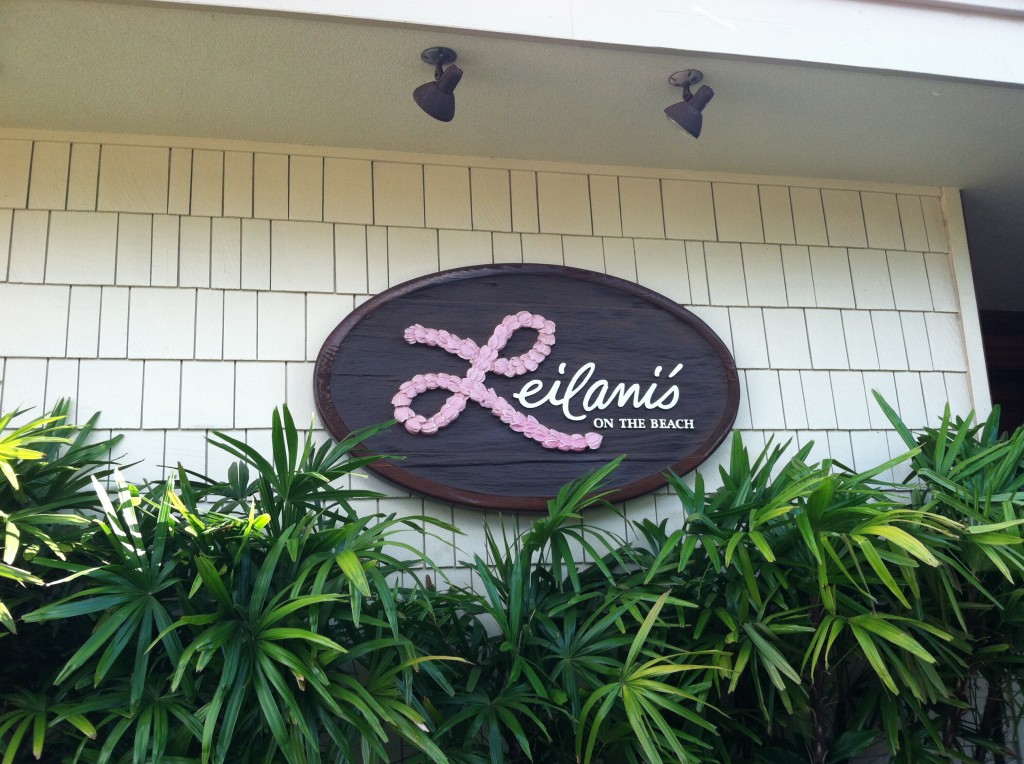 Sometimes it's fun and exciting to try new restaurants to taste and see what they have to offer.  Other times you just want to go back to one of your favorite restaurants, the tried, tested and approved, because there is assurance that you know you are going to enjoy what you ordered.  That's exactly what we did last week, Sunday, for my husband's birthday.  We decided to celebrate da hubby's birthday in one of our all time favorite restaurant: the Laeilani's on the Beach at Whaler's Village in Kaanapali.
Leilani's on the Beach has been serving great food on Maui for many many years.  Da hubby and I used to go out there for a date. Since we live in Kihei, the Southside part of the island, driving to Leilani's is a "big deal".  It's a special trip to the Westside. I must mention that one of the great motivation to driving there is the "Hula Pie".  We love the Hula Pie at Leilani's.  In fact, one of the very first posts here on A Maui Blog was about the Hula Pie.  It was a guest post from Da Hubby!  It's a fun post to read and I will share you the link later (yep, I didn't want you to click the link right away, read this post first and go there after ;)
So much about reminiscing … let's talk about our recent visit, our visit last week.  My hubby dear who always make fun of me taking photos of everything blog worthy decided to pull a Liza and asked us (da family) to pose in front of Leilani's on the Beach before we even went it.  It was funny sort of embarrassing (funny for me, ebarassing for my teens 🙂 ),  It took him a while to take the shot thus the various reactions  faces (gotta love Hapa Girl's half smile).  The best part of this is when da hubby actually make the photo his Facebook Cover photo.  It made me laugh, especially with his profile photo on it – I had to take a screen shot so I can share it with you: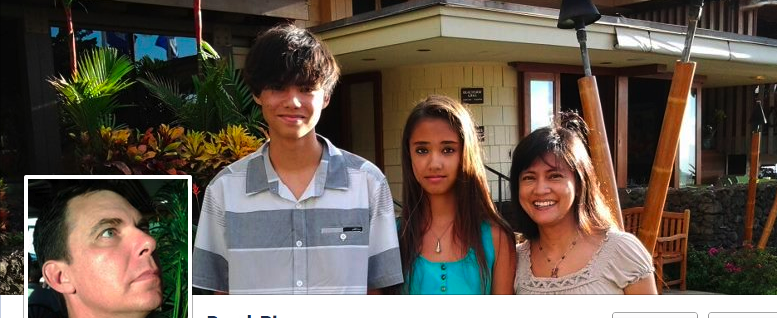 After the photo session in front, we got in and was greeted by our waiter Lance (excellent service with lots of aloha!).  Because it's a birthday celebration we opted to order some fancy drinks instead of our usual iced tea and soda.  And what do bloggers do when they have a fancy drink in front of them? Yes, take a photo first before they sip.  That's exactly what we did: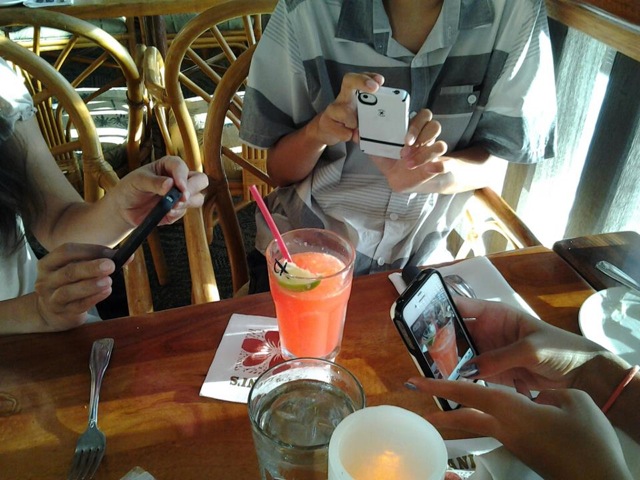 By this time the people around us are already talking about how weird we are that we keep on talking photos of our drink! I couldn't wait for them to see us taking photos of our food! LOL!
And because it's a special celebration, we also decided to order a special pupu to eat while we were waiting for the entree'.  OMG, the scallops pupu that we ordered was sooo good! More about that scallops pupu here.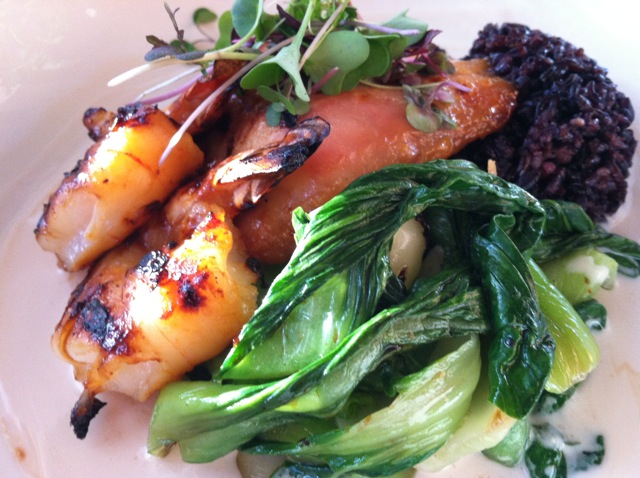 Now on to the main dish.  Needless to say they were all ono.  We had a variety of entree that night.  Da hubby prefer the fish, while Hapa Boy likes Beef (ordered Prime ribs) and Hapa Girl likes Pasta and Seafood (Ordered linguini with Shrimp) All of us likes our order and ended up with a very clean plate (you will see it on the video), all food gone after dinner. Here is the link to Leilani's On the Beach Menu (click those words!) I was going to post photos here but WordPress said I've reached my limits for this post already so I highly suggest you watch the video at the end of this post. But seriously, all the food we ordered are onolicious!
And now … after dinner comes dessert! The Hula Pie!!!!  Here's da link to da hubby's review of Hula Pie at Lailani's on the beach. He calls it the Best Dessert Ever.  But wait … before you ciick that link, I invite you to watch this video first.   I also encourage you to leave a comment and let me know about your experience at Leilani's On the Beach.  Have fun!
As you've seen from this short video, we had a fun time as a family at Leilani's On The Beach.  I highly recommend it for your next visit to Maui or if you're local, I encourage you to there for fun family time or a date with da spouse 🙂  In the comment section, share with us your experience at Leailani's – I'd love to hear from you!   A hui hou!
******************************************
TACKLE IT TUESDAY NOTE: We had our dinner at Leilani's on Sunday August 12, 2012. I had been wanting to upload this post right after. However, I got busy I didn't get a chance to finish the post and the YouTube video in a timely manner.  So tonight I decided yo tackle this and not give up or get distracted until I upload it.  To reward myself for uploading this video tonight, I am joining the "Tackle It Tuesday" at 5 Minutes For Moms. This post is my "Tackle It Tuesday" tackle 🙂