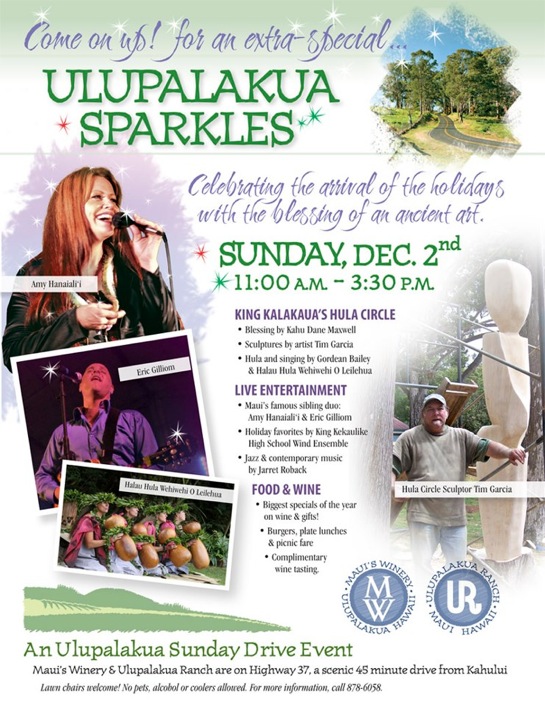 ULUPALAKUA – Maui's Winery and Ulupalakua Ranch Store invite the public to come on up to Upcountry Maui for an extra special "Ulupalakua Sparkles" on Sunday, December 2, from 11 a.m. to 3:30 p.m.
This historic Sunday Drive event celebrates the blessing and renewal of King David Kalakaua's Hula Circle. The newly transformed circle will once again rustle with swaying hula skirts as dancers perform in this sacred space.
Kahu Dane Maxwell, grandson of the late Uncle Charlie Maxwell, will bless the Hula Circle at 12:15 p.m., followed by dancing and singing within the circle by Gordean Bailey's Wehiwehi O Leilehua at 12:45. A renowned kumu hula and former Miss Hawai'i, Bailey now operates a beautiful 10-acre protea farm in Kula—so expect to see some gorgeous floral décor!
The celebration will continue with a rare musical treat: siblings Amy Hanaiali'i and Eric Gilliom, performing on the winery grounds at 2 p.m. The grandchildren of influential kumu hula Jennie N?pua Woodd, Amy and Eric grew up on Maui, immersed in the heritage of Hawaiian music. Renowned for her ha'i falsetto singing, Amy is Hawai'i's top-selling female vocalist, with five Grammy nominations and 17 N? H?k? Hanohano awards to her name. Her albums over the years feature a variety of styles and creations with the islands' top artists, reflecting the diversity of Hawaiian music today.
Eric is an accomplished musician and actor, with two solo albums under his belt and a long list of collaborations with talented performers from Barry Flanagan to Mick Fleetwood. A favorite on the local music scene, he tickled the island's funny bone with his portrayal of Merton in the 2010 movie "Get a Job," and wowed audiences in his role as half of the award-winning comic music duo Barefoot Natives, together with Grammy-nominated powerhouse Willie K.
To add extra sparkle to the afternoon, longtime Maui musician (and firefighter) Jarret Roback will play Hawaiian contemporary and jazz music on the lanai of the Ranch Store from 11 a.m. to 2:30 p.m. The King Kekaulike High School Wind Ensemble will also perform, starting at 11 a.m. Directed by Casey Nagata, the group is comprised of 32 students ranging from grades 9 to 12, playing a range of classical and contemporary music—and holiday favorites!
"Ulupalakua Sparkles" provides a festive way to enjoy the season and browse the biggest sale of the year on wine and Maui-style gifts in the historic King's Cottage Tasting Room. Complimentary wine tasting is available throughout the day, including exclusive tastings of the 2010 Plantation Red, created from 100 percent Maui-grown Syrah grapes—only 40 cases left! The occasion also marks the release of new labels for the Maui Splash and Maui Blanc pineapple wines, both of which are made from fresh Maui Gold pineapple crushed onsite at Ulupalakua.
A delicious array of lunch fare tempts the palate at Ulupalakua Ranch Store Deli & Grill from 11 a.m. to 4 p.m., featuring Maui Cattle Co. and Ulupalakua Elk Burgers, the ranch's famous Ulupalakua Steak Chili, and Maui Gold Pineapple, along with salads, sandwiches and other holiday lunch specials.
"We invite you to join us for this very special day as we celebrate the legacy of hula right here at Ulupalakua!" says Paula Hegele, president of Maui's Winery. "It's an amazing honor to preserve this gift for the next generation of visitors."
About Sunday Drive events at Ulupalakua
Ulupalakua hosts occasional Sunday Drive events to share and honor different aspects of this unique historic area. Each event features live music on the beautiful grounds of Maui's Winery, lunch specials at Ulupalakua Ranch Store, complimentary wine tasting, and opportunities to learn more about the area's history and culture.
For more information about Sunday Drive events, call toll-free (877) 878-6058. To learn more about Ulupalakua, please visit www.mauiwine.com or www.ulupalakuaranch.com.