Da Pumpkin Patch at the Kula Country Farm. Yes, a pumpkin patch on Maui!
This post was originally published in 2009 … updated October 2019.  Ten (10) years old … wow!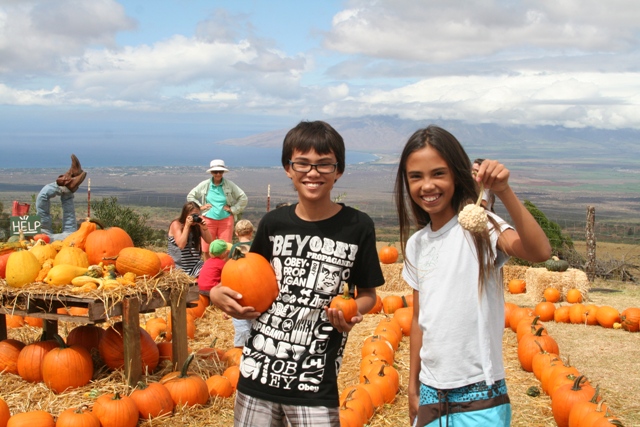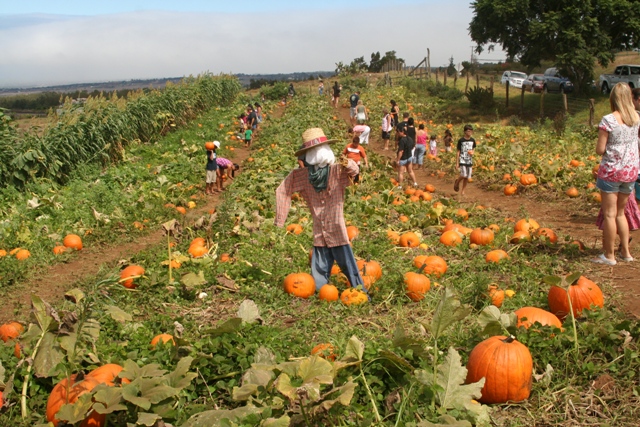 There are many reasons why Kula Country Farms is one of our favorite farms on Maui.   First, Kula Country Farm is located Upcountry and is accessible and easy to find.  It's along Kula Highway, across the street from Rice Park. Second reason is that part of a farm transforms into "theme farm" depending on the season.  On summertime, our family enjoys going on the "Strawberry Patch" for "Pick Your Own Strawberries" fun activity.  During the Fall, the same farm transforms into a Pumpkin Patch and kids have a blast! It's a delight to visit during the Pumpkin Patch season, as you can see on the photo above. Third, aside from the season theme, they always have fresh produce available to purchase. There is a wide variety of fruits, vegetables, and flowers.
Now here are the photos were taken a few days ago Oct. 1, 2019
Mahalo to Carol Van Horn  @carolsmauilife   for taking and sharing these photos: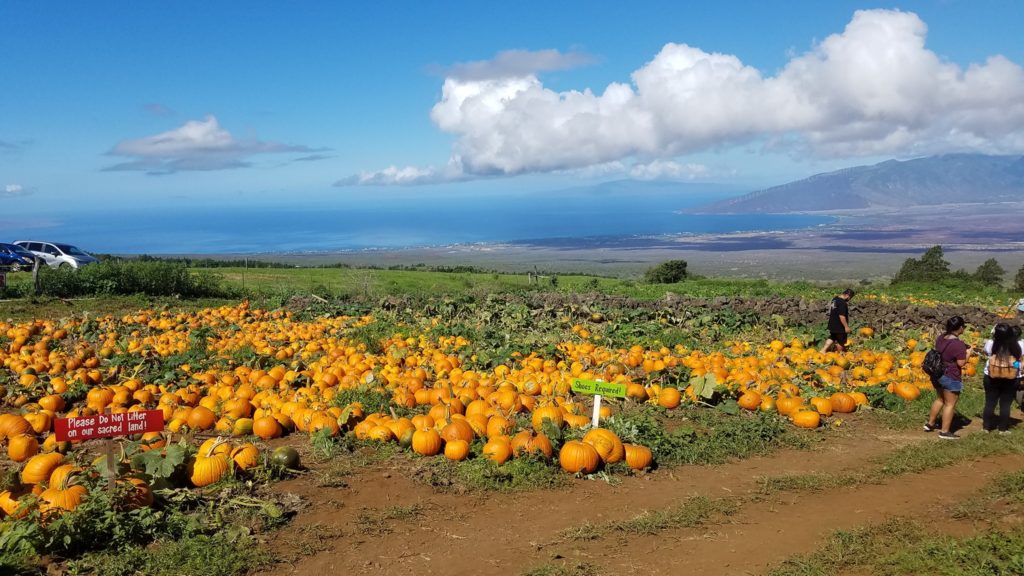 As you can see, this Kula Country Farm Pumpkin Patch is the best Pumpkin patch because it's a pumpkin patch with a view! a beautiful view!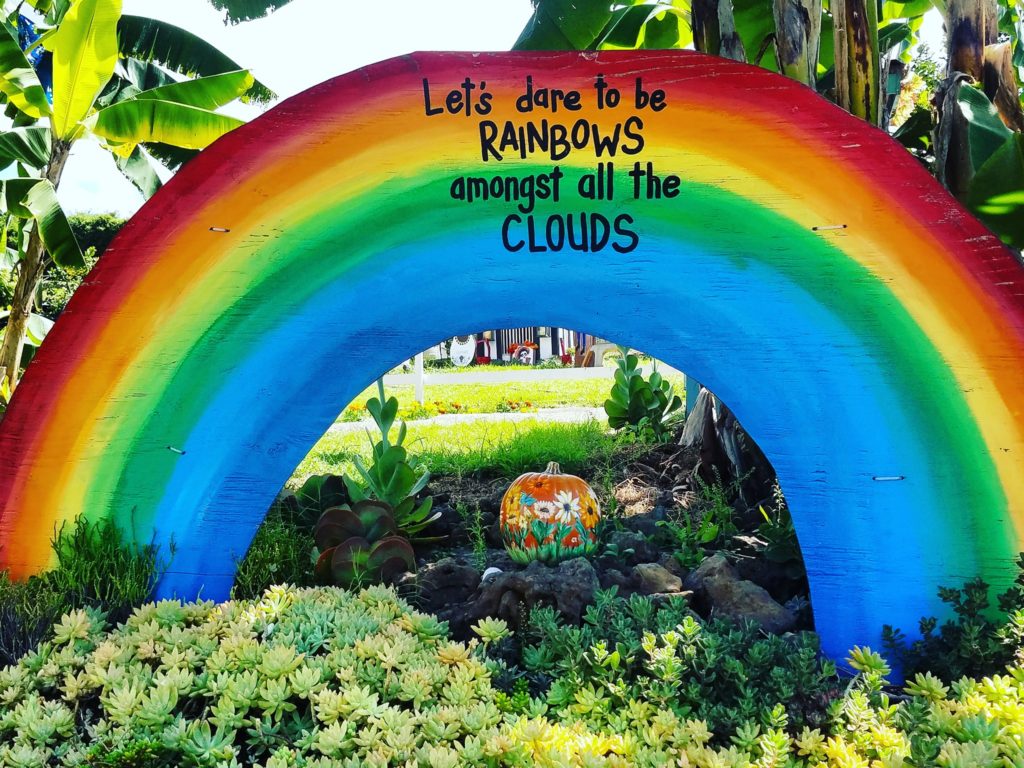 I love the addition of the rainbow. So colorful! Great for a photo op too.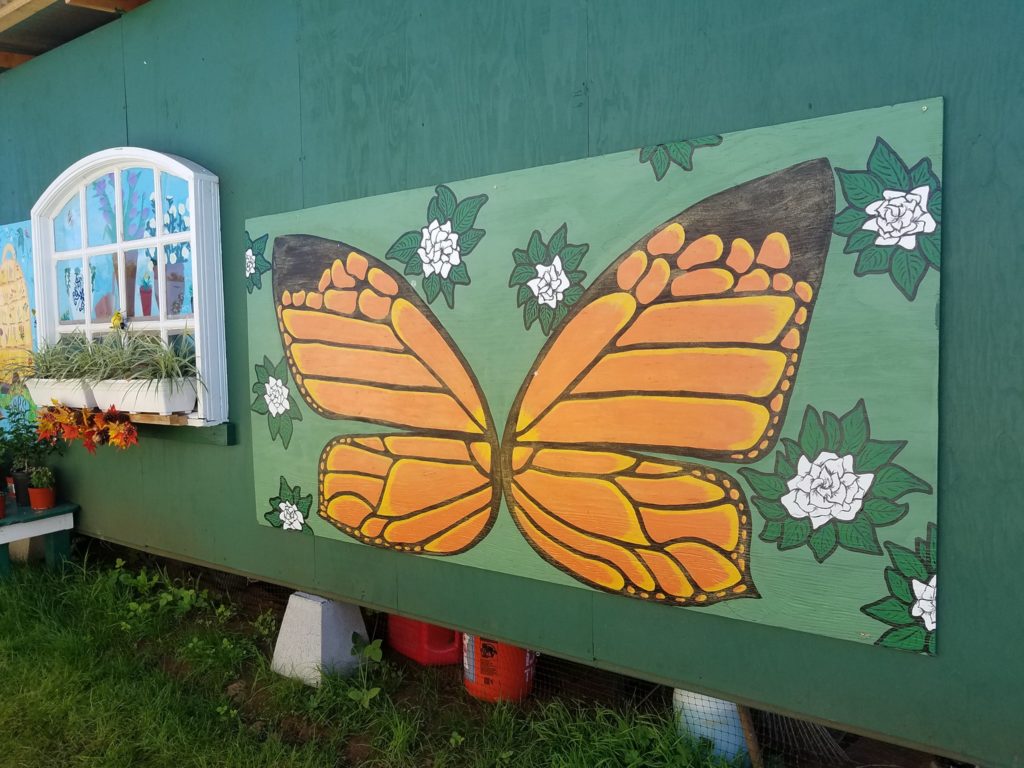 And thus butterfly wing! Another great background for Instagram photos 🙂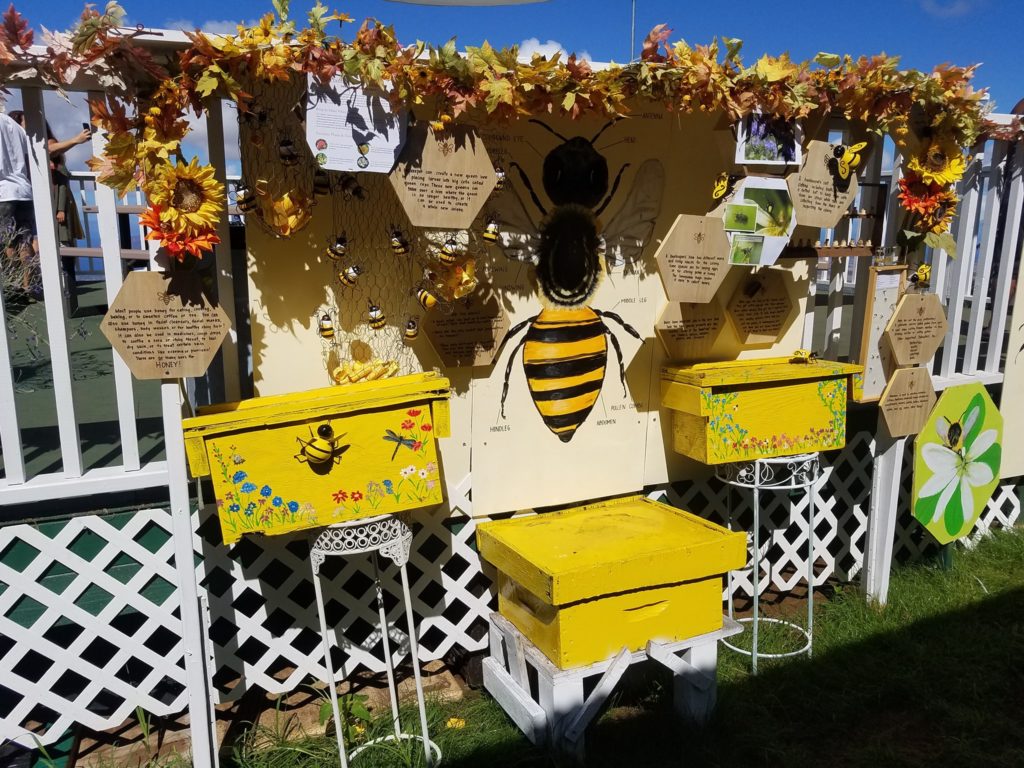 Aside from the rainbow, I also love that they have a section about the bees.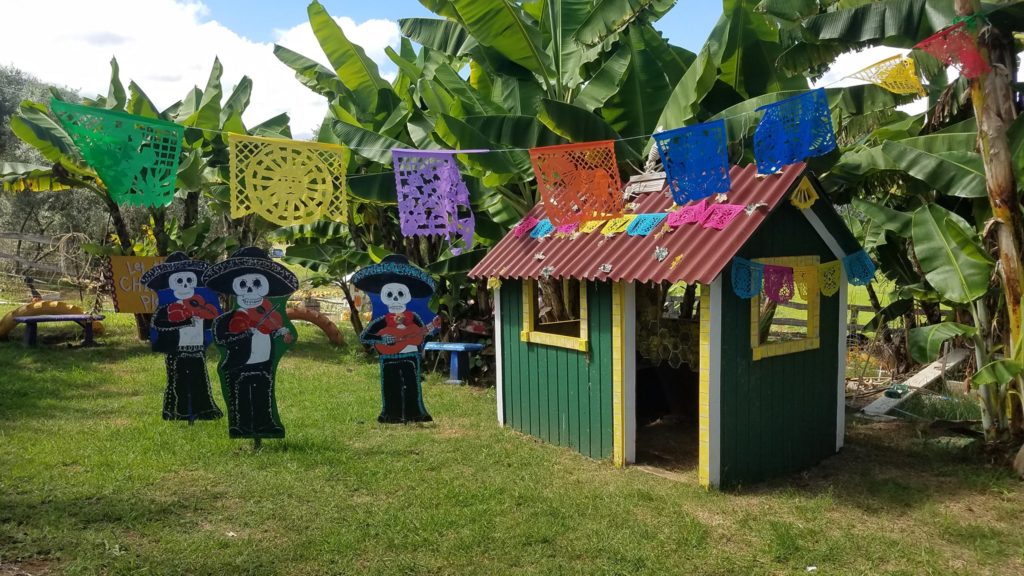 This year they also added more "Halloween" themed decorations.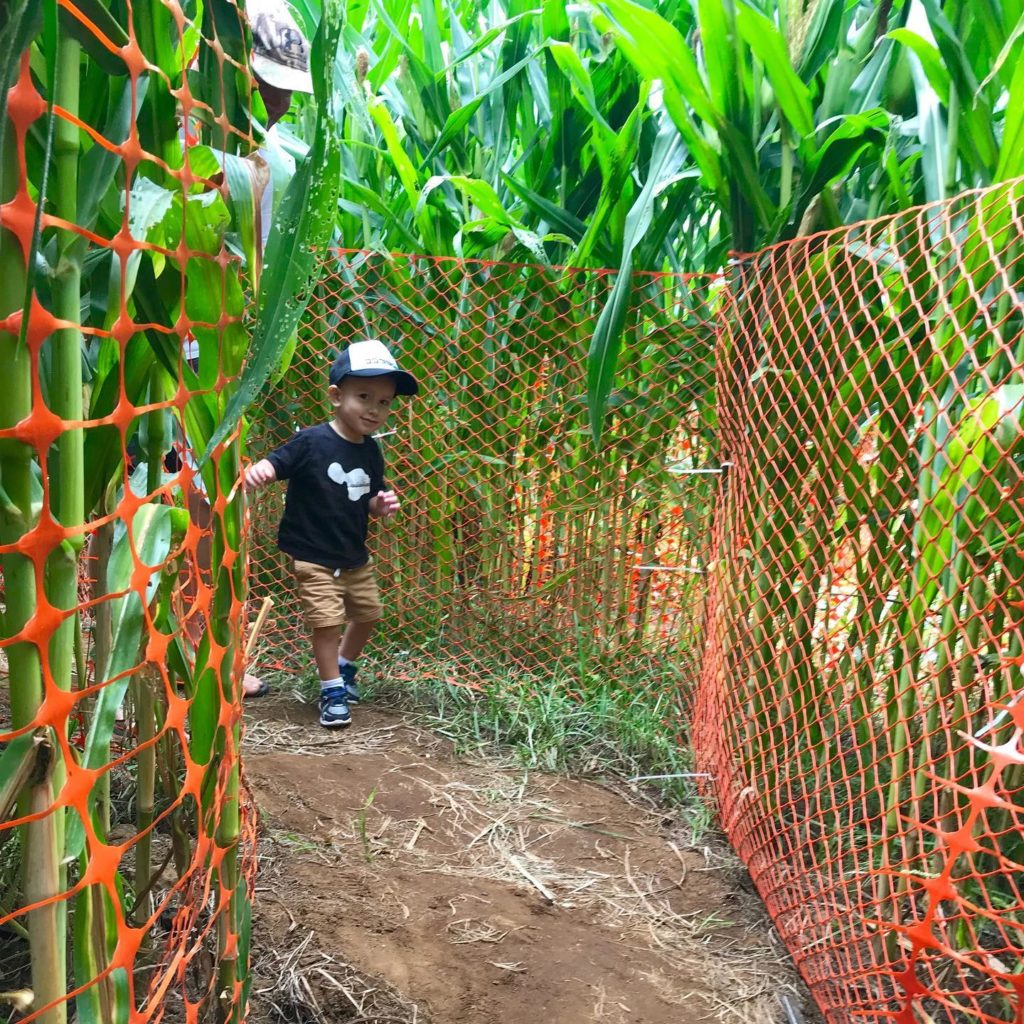 And a corn maze!  What a fun idea!  If I remember right, they had a sunflower maze before (or maybe just a bunch of sunflowers) – they don't have that now. This photo is via Kula Country Farm.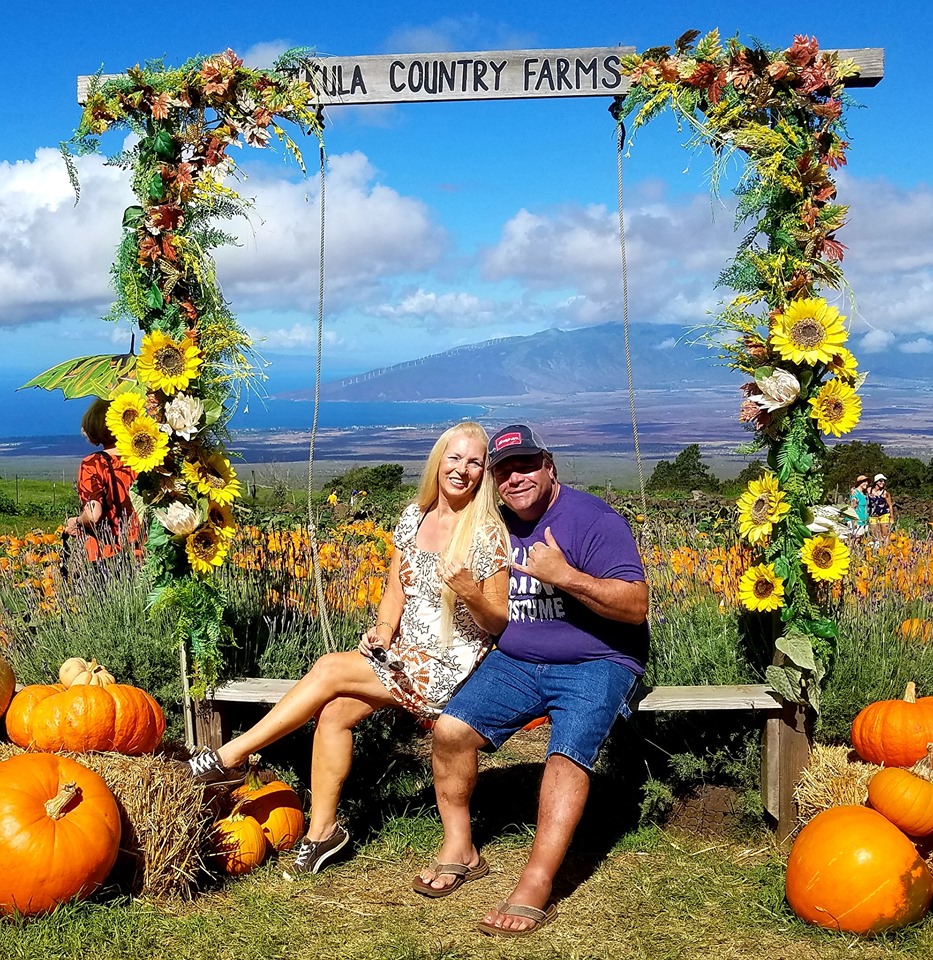 And of course, the famous bench with the flower arch. Perfect for picture taking, with hashtags #KulaCountryFarm and #KulaPumpkinPatch. In this photo are Carol and Ken Vanhorn.
"What do you like best about Fall Season?" For me, it's the family gathering at Thanksgiving and the smell of pumpkin pies and apple pies…. and yes the family fun at the Pumpkin Patch too!
The following are my affiliate links with Amazon, sharing some Fall Home Decor.  Affiliate means I get a commission from Amazon (at no cost to you) when you purchase. Mahalo for your support.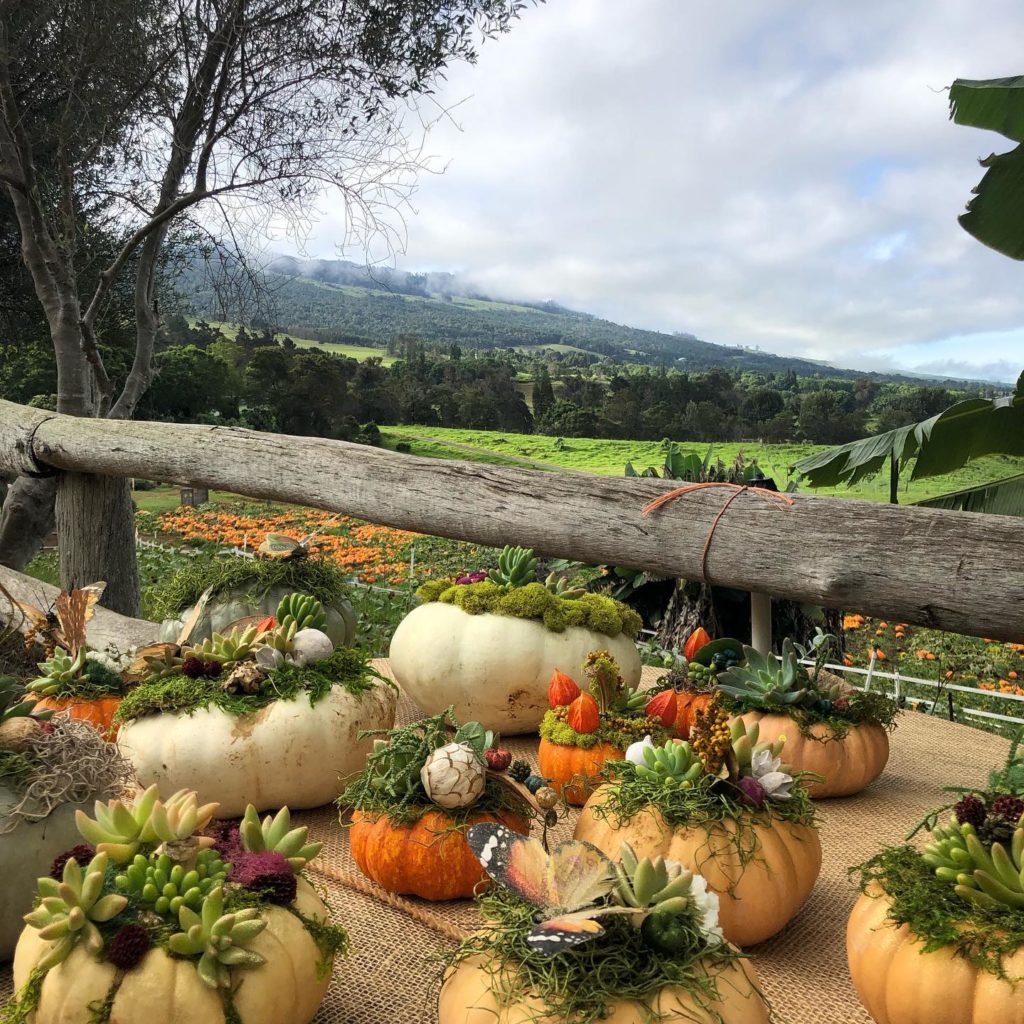 Via MauiTime: The Fall Pumpkin Patch will be at Kula Country Farms until Thursday, October 31st. They have a huge harvest of beautiful, colorful, and quirky pumpkins just waiting for you and your family to choose from! They also have gourds, carving tools, Indian corn, and more. Weekend activities include 'ono food, farm animals, a corn maze, jumping castle, face painting, shave ice, pumpkin carving, and more holiday-themed events. $3/person. Free/children under 2 years old. 9am-4pm. Kula Country Farms, (6240 Kula Hwy., Kula); 808-878-8381; kulacountryfarmsmaui.com