Where to Eat on Maui?  This is one of the most popular questions asked here on A Maui Blog. I had been wanting to update some of my "Where to Eat" posts, but I haven't yet …. till now. (yeah, the posts in that link desperately needs updating).
Instead of trying to tackle all of Maui, I'd start with South Maui. And instead to trying to write about all the new restaurant all at once, I'd just discuss a few and will deal with others later.
Let us start with "what are the new restaurants in South Maui?"
Before I answer that question, I want to express my big mahalo to Jon of Maui Hawaii Info. Jon and I went out to "lunches" a couple weeks to try out some of these new restaurants. If it was just up to me, it usually takes a long time before I can try a new restaurants because our family is on a budget and we don't eat out often. However, with Jon, when he comes to Maui, he goes to various restaurants and he pays for all the food he eats & writes a review on.  We have been doing this "try our new restaurant lunch" for about 4 years now.  Here's our photo from our recent Food tasting Adventure: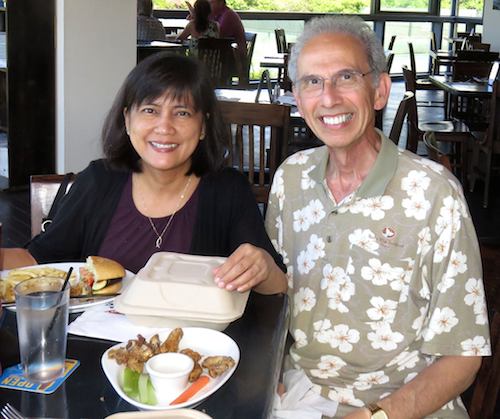 So back to the new restaurant list. Here are some of the tops ones:
Shearwater Tavern -This tavern is one of the newest and most recommended so far, as far as new restaurant goes. It's right next to Fork and Salad. The location is where Stella Blues used to be in Azeka Shopping Center. I have not tried it yet but many of my friends did and they rave about how good the food and drinks are. Here is  photo taken by my friend Sam of Maui's Best Massage. He tried Shearwater Tavern and he highly recommends it.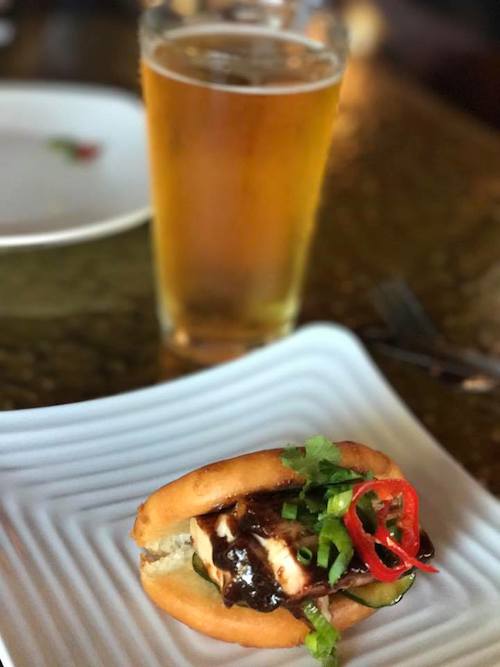 Wailea Kitchen and Tap – Dining with a view – nice ocean view that is! This is located where the Joe's Bar and Grill was. They have good prices and the food are delicious. It's a sports bar too so they get busy during games (yes they have big screens to watch) … but during the week, it is not crowded at all. Their website is still under construction and they don't have an Instagram account yet, only  Facebook Page. Maybe they should hire me to do their social media because I think they have lots of potentials, but the place is hard to find.  He is photo of the veggie sandwich I had there. It's a good option for vegetarians, very tastelty.  The selection in their menu is not so big but all good and the price is right.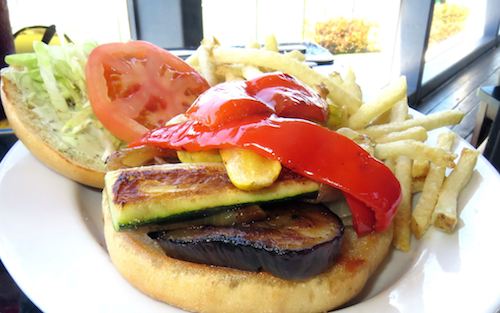 Pint And Cork – This gastropub is located in The Shops at Wailea, close to my office at Wailea Realty. Great food and drinks. Lots of TV if you're into it (Jon and I  were not). I ordered the Linguisa with Clam and it's deliciously flavorful I highly recommend it. Jon ordered the famous Mac and Cheese – he opted to have Truffles in it and he said it's really good too. (I will put a link here to his review once it's up). They have happy hour that you can take advantage of with specials like sliders for $3.50 each. I think I'd try that next week.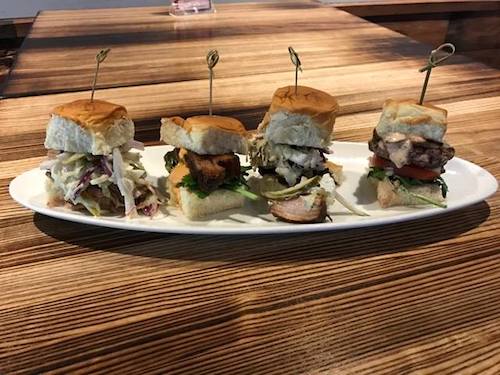 Food Trucks At the Maui Brewery – When I asked my friends on Facebook what new places to eat on South Maui they recommend, one of them said "Its A Wrap". I found out its one of the Food Trucks at Maui Brewing Company. The Food Trucks there have a rotation, so you will have to check Maui Brewing Company's Facebook Page before you go if you want to try "That's A Wrap". Follow FoodTrucksOnMaui Facebook Page and I will feature "That's A Wrap" there soon.
Akamai Coffee – the new Hip Place in town 🙂 – Many of you are familiar with that famous Akamai Coffee Kiosk in front of Home Depot in Kahului. They opened a shop in Kihei next to Jack In The Box across from Times Supermarket. Great local coffee and more. the ambiance is wonderful – that's their main attraction aside from good coffee and tea and friendly staff.
Brekkie Bowl – Here another one that my friends rave about which I haven't tried yet but sure it's really good. Acai Bowls, Smoothies, etc. Healthy yummy stuff! Check out my Instagram Page and Follow it. I have been posting about new places to eat and this weekend I featured Brekkie Bowls.
1054ToGoShi – Coming soon! Will do a separate post on this after I try it. It's located in Lipoa next to Fabiani's in Kihei.
Humble Market Kitchin – New restaurant in Wailea.  Jon tried it and he will be writing about it so I's pu a link here. No, I haven't tried it yet so I don't really have much to say about it. I am guessing it's great, afterall it's by Roy's.
Not so new but relatively new:
Miso Phat
Roasted Chili
Java Cafe
Nutcharee Thai Food
Maui Sandwich Shack
Maui Pie
Luana at Fairmont (Re-launched)
Kappa Bar and Grill
Cow, Pig and Bun
Hawaiian Moons (Expanded)
Two locations (Kihei and Wailea) – Not new but good places to eat
Fabiani's – Kihei is at Lipoa and Wailea is at Wailea Gateway Center
Pita Paradise – Kihei is at Kihei Traingle and Wailea is at Wailea Gateway Center
Coconut's – Original place is at Azeka's next to Peggy Sues and they are still there, but opened another one in Kihei at Kamaole Shopping Center.
Island Gourmet Market (Kihei is at ABC Store in front of Kam I and Wailea is at the Shops At Wailea)
Not new but not mentioned on my previous post and worth trying:
Not new but not mentioned on my previous post and worth trying:
Monkey Pod – Best Lilikoi Mai Tai
Thai Cuisine
808 Deli – Best Salads
Cafe O'lei
Matteo's
*****
P.S. on 2/6/17
I have written this post two weeks ago and  been holding off on publishing this because I wanted to add more details and improve the content before I publish, but it has been taking a long time so I am making this live now and will update when I can. Please do chime in in the comment section and let us know where you like eating on South Maui.  A hui hou!